Tags: apiedit, Visual edit

 

(6 intermediate revisions by one other user not shown)
Line 1:
Line 1:
 
+

[[File:Koh-i-Noor.jpg|thumb|300px|right|Koh-i-Noor's status page in ''Persona 5''.]]

−

#REDIRECT [[Treasure Demon#Koh-i-Noor]]

 
 
+

'''Koh-i-Noor''' {{J|コ・イ・ヌール|Ko I Nūru}} is a demon in ''Persona 5''.

 
+
 
+

==Appearances==

 
+

*''[[Persona 5]]'' / ''[[Persona 5 Royal|Royal]]'': [[Priestess Arcana]], [[Treasure Demon]]

 
+
 
+

==History==

 
+

The '''{{W|Koh-i-Noor}}''' is the world's largest natural colorless diamond mined from India. Its uncut form is said to weigh 186 carats. Within the British royal family, the diamond was rumored to bring bad luck to any man who wears it.

 
+
 
+

==Profile==

 
+

===''Persona 5''===

 
+

{{Q|Once called the world's largest diamond, it was cut when it came to the British royal family. It is said to bring bad luck to any man who wears it, so only the females have ever adorned it.|Persona 5 background}}

 
+

Koh-i-Noor is the third Persona of the Priestess Arcana and can be found in [[Okumura's Palace]] and the Adyeshach area of [[Mementos]]. The most effective way to capture this Shadow is by Downing it using the [[Protagonist (Persona 5)|protagonist's]] Down Shot gained from the Tower Confidant, which will knock it down despite its resistance to Gun skills. Barring that, Physical attacks with high critical rates, such as Lucky Punch or Miracle Punch, can also down Koh-i-Noor. Koh-i-Noor is the first Persona with access to the Dodge Wind, Dodge Psy, Dodge Nuke and Dodge Bless skills, but they will be to be passed on to another Persona through fusion to be usable. When itemized using Electric Chair execution in the [[Velvet Room]], Koh-i-Noor yields the Koh-i-Noor accessory, which increases all stats by 2 and the power of non-insta-kill Bless attacks.

 
+
 
+

==Stats==

 
+

===''Persona 5''===

 
+

<tabber>

 
+

Shadow=

 
+

{{Stats|p5

 
+

|Arcana=Priestess

 
+

|Level= 25

 
+

|xp=1,500

 
+

|yen=15,000

 
+

|HP=600

 
+

|SP=180

 
+

|Trait=Gloomy

 
+

|Strength= 25

 
+

|Magic= 25

 
+

|Endurance= 24

 
+

|Agility= 25

 
+

|Luck= 25

 
+

|Phys=Strong

 
+

|Gun=Strong

 
+

|Fire=Strong

 
+

|Ice=Strong

 
+

|Elec=Strong

 
+

|Wind=Strong

 
+

|Psy=Strong

 
+

|Expel=Null

 
+

|Dark=Null

 
+

|Almighty=20

 
+

|Material=Magic Stone

 
+

|Card=Makajam

 
+

|skill=

 
+

|Shadow=Yes

 
+

}}

 
+

|-|

 
+

Persona=

 
+

{{Stats|p5

 
+

|Arcana=Priestess

 
+

|level=25

 
+

|weak=

 
+

|void=Bless, Curse

 
+

|resist=Phys, Gun, Fire, Ice, Elec, Wind, Psy

 
+

|strength=25

 
+

|magic=25

 
+

|endurance=25

 
+

|agility=25

 
+

|luck=25

 
+

|skills=

 
+

Dodge Fire\i

 
+

Dodge Ice\i

 
+

Dodge Electricity\i

 
+

Dodge Wind\i

 
+

Dodge Psy\i

 
+

Dodge Nuclear\i

 
+

Dodge Bless\i

 
+

Dodge Curse\i

 
+

}}

 
+

</tabber>

 
+

[[Category:English Mythology]]
---
Revision as of 05:47, 26 March 2020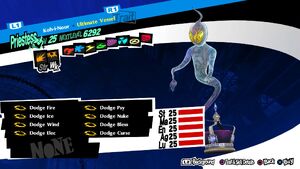 Koh-i-Noor (コ・イ・ヌール, Ko I Nūru)? is a demon in Persona 5.
Appearances
History
The Koh-i-Noor is the world's largest natural colorless diamond mined from India. Its uncut form is said to weigh 186 carats. Within the British royal family, the diamond was rumored to bring bad luck to any man who wears it.
Profile
Persona 5
"Once called the world's largest diamond, it was cut when it came to the British royal family. It is said to bring bad luck to any man who wears it, so only the females have ever adorned it."
—Persona 5 background
Koh-i-Noor is the third Persona of the Priestess Arcana and can be found in Okumura's Palace and the Adyeshach area of Mementos. The most effective way to capture this Shadow is by Downing it using the protagonist's Down Shot gained from the Tower Confidant, which will knock it down despite its resistance to Gun skills. Barring that, Physical attacks with high critical rates, such as Lucky Punch or Miracle Punch, can also down Koh-i-Noor. Koh-i-Noor is the first Persona with access to the Dodge Wind, Dodge Psy, Dodge Nuke and Dodge Bless skills, but they will be to be passed on to another Persona through fusion to be usable. When itemized using Electric Chair execution in the Velvet Room, Koh-i-Noor yields the Koh-i-Noor accessory, which increases all stats by 2 and the power of non-insta-kill Bless attacks.
Stats
Persona 5
| Inherit | Reflects | Absorbs | Block | Resists | Weak |
| --- | --- | --- | --- | --- | --- |
| - | - | - | Bless, Curse | Phys, Gun, Fire, Ice, Elec, Wind, Psy | - |
List of Skills
Skill
Cost
Effect
Level
Dodge Fire
Auto
Double evasion chance against Fire attacks.
Innate
Dodge Ice
Auto
Double evasion chance against Ice attacks.
Innate
Dodge Elec
Auto
Double evasion chance against Electric attacks.
Innate
Dodge Wind
Auto
Double evasion chance against Wind attacks.
Innate
Dodge Psy
Auto
Double evasion chance against Psy attacks.
Innate
Dodge Nuke
Auto
Double evasion chance against Nuclear attacks.
Innate
Dodge Bless
Auto
Double evasion chance against (non-insta-death) Bless attacks.
Innate
Dodge Curse
Auto
Double evasion chance against (non-insta-death) Curse attacks.
Innate