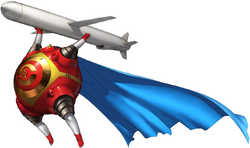 Kintoki-Douji (キントキドウジ, Kintokidouji)? is a Persona in the series.
When the legendary figure Kintaro reached adulthood, he took the name of Sakata no Kintoki. His childhood friends were the animals on the mountain where he grew up, and he regularly proved his incredible strength when playing with them. He was rarely seen without his tomahawk, with which he helped local woodcutters fell trees.
Appearences
Edit
Persona 4Edit
Kintoki-Douji is Teddie's initial Persona. It is of the Star Arcana.
It has the appearance of a bulbous red boiler with stubby limbs in a blue cape, carrying a tomahawk missile in its arms. It is capable in using Ice spells and is also the other main healer. Its name is taken from the folk hero Kintarō who wielded a tomahawk. As such, this is the reason the Persona wields a tomahawk missile. By completing Teddie's social link, Kamui will replace Kintoki-Douji.
The AnimationEdit
Kintoki-Douji is still Teddie's initial persona, which he gains after his shadow self is defeated by the group.
Along with Persona 4 Arena, the animation are the only two instances where Kintoki-Douji uses the Tomahawk missile he is always seen carrying, as a weapon.
Persona 4 ArenaEdit
Kintoki-Douji returns as Teddie's Persona. However, it is no longer the primary Ice Persona of the game, as that role has been reclaimed by Artemisia.
Persona 4: Dancing All NightEdit
Kintoki-Douji uses a DJ turntable after completing a song.
Persona 4Edit
Arcana

Level

| | | |
| --- | --- | --- |
| Strength | 24 | |
| Magic | 25 | |
| Endurance | 20 | |
| Agility | 22 | |
| Luck | 16 | |

Star
35
| Inherit | Reflects | Absorbs | Block | Resists | Weak |
| --- | --- | --- | --- | --- | --- |
| N/A | - | - | - | Ice | Electricity |
List of Skills

Skill
Cost
Effect
Level
Mediarama
12 SP
Moderately restores party's HP.
Innate
Bufula
8 SP
Deals medium Ice damage to 1 foe.
Innate
Energy Shower
18 SP
Cures Exhaustion and Enervation (party).
Innate
Traesto
18 SP
Instantly escape from a dungeon. (Not available during combat)
36
Mabufula
16 SP
Deals medium Ice damage to all foes.
38
Ice Boost
Passive
Strengthens Ice attacks by 25%.
40
Matarukaja
24 SP
Increases party's Attack for 3 turns.
42
Ice Break
15 SP
Nullifies 1 foe's Ice resistance (for 3 turns).
44
Diarahan
18 SP
Fully restores 1 ally's HP.
49
Bufudyne
12 SP
Deals heavy Ice damage to 1 foe.
54
Marakukaja
24 SP
Increases party's Defense for 3 turns.
58
Amrita
12 SP
Cures all ailments except Down and KO (party).
61
Samarecarm
18 SP
Revives 1 ally with full HP.
63
Mabufudyne
22 SP
Deals heavy Ice damage to all foes.
67
Mediarahan
30 SP
Fully restores party's HP.
70
Ice Amp
Passive
Strengthens Ice attacks by 50%.
72
Arcana

Level

| | | |
| --- | --- | --- |
| Strength | 24 | |
| Magic | 25 | |
| Endurance | 20 | |
| Agility | 22 | |
| Luck | 16 | |

Star
35
| Inherit | Reflects | Absorbs | Block | Resists | Weak |
| --- | --- | --- | --- | --- | --- |
| N/A | - | - | - | Ice | Electricity |
List of Skills

Skill
Cost
Effect
Level
Mediarama
12 SP
Moderately restores party's HP.
Innate
Bufula
8 SP
Deals medium Ice damage to 1 foe.
Innate
Energy Shower
18 SP
Cures Exhaustion and Enervation (party).
Innate
Poison Skewer
9% HP
Deals light Phys damage to 1 foe with a chance of Poison.
Innate
Re Patra
3 SP
Recovers 1 ally from Knockdown or Dizzy status.
Innate
Traesto
18 SP
Instantly escape from a dungeon. (Not available during combat)
36
Mabufula
16 SP
Deals medium Ice damage to all foes.
38
Ice Boost
Passive
Strengthens Ice attacks by 25%.
40
Matarukaja
24 SP
Increases party's Attack for 3 turns.
42
Ice Break
15 SP
Nullifies 1 foe's Ice resistance (for 3 turns).
44
Diarahan
18 SP
Fully restores 1 ally's HP.
49
Bufudyne
12 SP
Deals heavy Ice damage to 1 foe.
54
Marakukaja
24 SP
Increases party's Defense for 3 turns.
58
Amrita
12 SP
Cures all ailments except Down and KO (party).
61
Gigantic Fist
16% HP
Deals heavy Phys damage to 1 foe.
63
Mabufudyne
22 SP
Deals heavy Ice damage to all foes.
67
Mediarahan
30 SP
Fully restores party's HP.
70
Ice Amp
Passive
Strengthens Ice attacks by 50%.
72
Persona Q: Shadow of the LabyrinthEdit
Arcana

Level

| | | |
| --- | --- | --- |
| Strength | 6 | |
| Magic | 8 | |
| Endurance | 5 | |
| Agility | 4 | |
| Luck | 9 | |

Star
1
| Reflects | Absorbs | Void | Resists | Weak |
| --- | --- | --- | --- | --- |
| - | - | - | Ice | Elec |
List of Skills

Skill
Cost
Effect
Level
Bufu
8 SP
A light Ice attack. (1 enemy)
Innate
Mabufu
14 SP
A light Ice attack. (All enemies)
8
Bufula
28 SP
A medium Ice attack. (1 enemy)
15
Recarm
16 SP
Revive, with half HP restore. (1 ally)
19
Mabufula
36 SP
A medium Ice attack. (All enemies)
37
Bufudyne
46 SP
A heavy Ice attack. (1 enemy)
40
Samarecarm
34 SP
Revive, with full HP restore. (1 ally)
43
Mabufudyne
64 SP
A heavy Ice attack. (All enemies)
55
Arcana

Level

| | | |
| --- | --- | --- |
| Strength | 69 | |
| Magic | 77 | |
| Endurance | 50 | |
| Agility | 50 | |
| Luck | 90 | |

Star
99
| Reflects | Absorbs | Void | Resists | Weak |
| --- | --- | --- | --- | --- |
| - | - | - | Ice | Elec |
List of Skills

Skill
Cost
Effect
Level
Bufudyne
46 SP
A heavy Ice attack. (1 enemy)
40
Samarecarm
34 SP
Revive, with full HP restore. (1 ally)
43
Mabufudyne
64 SP
A heavy Ice attack. (All enemies)
55
Concept artwork from The Animation
Kintoki-Douji in Persona 4 The Animation
Kintoki-Douji in Persona 4 The Animation
Kintoki Douji appears in Persona 4 The Animation
Kintoki-Douji after being summoned
Kintoki-Douji in Persona 4 The Golden Animation
Kintoki-Douji sprite
Kintoki-Douji in the manga adaption
Kintoki-Douji as a DJ seen in Persona 4: Dancing All Night
Kintoki-Douji in Side: P3
Kintoki-Douji in Side: P4