Fire Emblem Warriors: Three Hopes - The Loop
Play Sound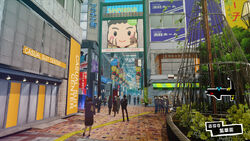 Kichijoji is a location in the series.
History
[
]
Kichijōji (吉祥寺) is a neighborhood in the city of Musashino in Tokyo, Japan. It is centered on a compact but very popular commercial area to the north of its train station and to the south a little. It has artistic and fashionable shops and restaurants, bars and coffee houses; from discount to high end. Kichijōji Station is served by the Chuuou Line which runs to Tokyo central station in just in 30 minutes, Sobu Line, Tozai Line and is also a terminus of the Keiou Inokashira Line, which takes passengers as far as Shibuya, another fashionable shopping center in Tokyo.
Appearances
[
]
Profile
[
]
Shin Megami Tensei

[

]
Kichijoji is the starting location of the game. The protagonist lives in Kichijoji, along with his mom and his dog. There is a mall, Echo Building and a hospital located east of the protagonist's home.
Shin Megami Tensei IV

[

]
Main article: Kiccigiorgi
Located at the Eastern Kingdom of Mikado, Kiccigiorgi is a farming colony. Apart from its namesake, Kiccigiorgi takes little design inspiration from its real-life counterpart.
Persona 5 The Animation

[

]
Kichijoji appears exclusively in the Proof of Justice OVA and is seen both in flashbacks sequences and the present day. Locations such as Jazz Jin and the Penguin Sniper club are seen in this special.
Ren and Akechi hung out mostly in Kichijoji. Most of Akechi's Confidant scenes that are in Persona 5 Royal first appear in the OVA.
Persona 5 Royal

[

]
Kichijoji is a new location that the protagonist can explore. After the Faith Confidant reaches Rank 5, Sumire Yoshizawa can be encountered there. The protagonist can meet Sumire for a hangout prior to December 24th, and can advance the Faith Confidant from Rank 5 by talking to Sumire starting from January 13th.
It also hosts a club where the protagonist and his teammates can play darts. Some Confidant-related hangouts with Goro Akechi will also involve the protagonist playing billiards with him there.
The protagonist may eavesdrop on his adult Confidants, his teachers, and Kobayakawa at the bars in the alleyways.
Kichijoji is also the location of Jazz Jin and the Old Temple.
The protagonist can also trade specific items with Trader Sakai to receive unusual rewards.
Gallery
[
]
Shin Megami Tensei
Persona 5 The Animation
Persona 5 Royal
Trivia
[
]
"Today, we talk about Inokashira Park in Kichijoji on this edition of "Discovery! Town Detectives!" An oasis full of natural delights in the heart of a metropolis, it's great for families--and couples.
You'll also find people going on runs or sketching. It's a great place to relax."
—Reporter & Pundit, Persona 5
Although introduced in Persona 5 Royal, Kichijoji was mentioned in Persona 5 in a TV report on April 27th.