Raise a Floppa - The Loop
Play Sound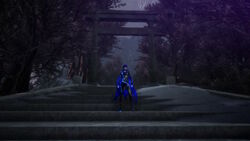 Kanda-no-yashiro (神田の社*)? is a location in the series.
Appearances
Profile
Shin Megami Tensei IV Apocalypse
Nanashi and Asahi are given a quest by Odin to retrieve the ark found in Kanda-no-yashiro, located in the Ueno region. In the shrine is a vast cave filled with water, with demons, angels and Japanese gods around. Sukuna-Hikona guards the ark. After defeating Sukuna-Hikona, Nanashi ends up releasing Krishna from captivity, who claims to offer humanity salvation from YHVH's oppression.
Shin Megami Tensei V
Kanda-no-yashiro is a location past Ochanomizu from Mansei Bridge.
Treasure
Demons
| Race | Demon | Lvl | HP | MP | | | | | | | | | ST | DX | MA | AG | LU |
| --- | --- | --- | --- | --- | --- | --- | --- | --- | --- | --- | --- | --- | --- | --- | --- | --- | --- |
| Ghost | Preta | 11 | 140 | 66 | | | Wk | Rs | | Wk | Wk | Nu | 17 | 17 | 17 | 17 | 17 |
| Holy | Heqet | 13 | 154 | 72 | | | | | Rs | Wk | | | 20 | 18 | 19 | 21 | 17 |
| Dragon | Makara | 13 | 154 | 72 | | | Wk | Rs | | | | | 18 | 18 | 22 | 21 | 19 |
| Drake | Toubyou | 14 | 161 | 75 | | | | Wk | | | Wk | | 21 | 22 | 20 | 19 | 18 |
| Nymph | Apsaras | 15 | 150 | 114 | | | Wk | Rs | | | | | 14 | 18 | 27 | 20 | 23 |
| Femme | Mermaid | 15 | 135 | 114 | | | | Rs | Wk | Rs | | | 14 | 18 | 29 | 20 | 23 |
| Flight | Gu Huo Niao | 16 | 140 | 118 | | Wk | Rs | Wk | | Rs | | Wk | 15 | 19 | 30 | 21 | 24 |
| Yoma | Koppa Tengu | 16 | 171 | 133 | | Wk | | | Wk | Rs | | | 20 | 30 | 17 | 23 | 21 |
| Jaki | Ippon-Datara | 16 | 230 | 55 | | | Rs | | | | Wk | | 33 | 20 | 15 | 21 | 23 |
| Divine | Archangel | 17 | ?? | ?? | | | | | | | Nu | Wk | ?? | ?? | ?? | ?? | ?? |
| Wilder | Peallaidh | 17 | 206 | 114 | | | Wk | Rs | | | Wk | | 15 | 19 | 31 | 21 | 25 |
| Genma | Ictinike | 18 | 247 | 71 | Rs | Wk | | Wk | | | | | 31 | 24 | 14 | 24 | 24 |
| Ghost | Obariyon | 18 | 180 | 97 | | | | Wk | Rs | | Wk | Nu | 22 | 22 | 19 | 31 | 28 |
| Divine | Principality | 18 | ?? | ?? | | Wk | | | | | Nu | Wk | ?? | ?? | ?? | ?? | ?? |
| Brute | Azumi | 19 | 152 | 101 | | | | Rs | Wk | | | | 23 | 23 | 26 | 32 | 29 |
| Fallen | Ose | 19 | ?? | ?? | | | | | | | | Nu | ?? | ?? | ?? | ?? | ?? |
| Beast | Inugami | 20 | 193 | 104 | | | Rs | Wk | | | Wk | Rs | 24 | 24 | 21 | 33 | 30 |
| Horde | Oni Horde | 20 | 741 | 376 | | | Rs | Rs | Wk | | Wk | | 43 | 30 | 24 | 31 | 35 |
| Horde | Pirate Horde | 20 | 861 | 337 | | | Wk | Nu | Nu | Wk | Rs | Rs | 24 | 29 | 43 | 31 | 36 |
| Kunitsu | Sukuna-Hikona | 22 | ?? | ?? | | | | Rs | Wk | | Rs | Rs | ?? | ?? | ?? | ?? | ?? |