World of Warcraft: Dragonflight - The Loop
Play Sound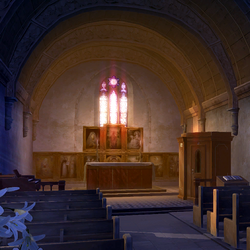 Kanda (神田*)? is a location in the series. It is located in Chiyoda, Tokyo, Japan.
History
Kanda is a district in Tokyo, Japan, encompassing around thirty neighborhoods. Churches can be found alongside shrines here. Kanda church is based on the real Kanda Catholic Church, a member of the Archdiocese of Tokyo.[1]
Appearances
Profile
Shin Megami Tensei V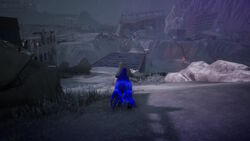 Kanda appears as an area in Da'at: Chiyoda. The protagonist enters the area in pursuit of the Demon King on Abdiel's orders. The protagonist can meet Goko and Fionn mac Cumhaill shortly after entering the area.
Persona 5
Kanda is a navigable area on the Tokyo map that can be unlocked some time after Yusuke Kitagawa's Confidant has reached rank 2 and he tells the other members of the Phantom Thieves about Hifumi Togo. The only location available is the church wherein the protagonist may recover forgotten moves of party members through the confessional booth, donate in exchange for items, or spend time with Hifumi.
Devil Survivor
Kanda is the location where the protagonist and his friends encounter Mari Mochizuki on the 2nd day. On the 3rd day, the protagonist may encounter the journalist Shoji.
Kanda is designed based on Jinbo-cho, a district in Tokyo famous with book lovers for the numerous large bookstore chains and smaller used book stores.
Treasure
Shin Megami Tensei V
Enemies
Shin Megami Tensei V
Level
Race
Demon
HP
Phys
Fire
Ice
Elec
Force
Light
Dark
Res
Skills
Drop
36
Femme
Lamia
335
-
-
Wk
Nul
-
-
-
Wk:Mirage, Res:Poison
Zionga, Life Drain, Makajama
Life Stone,

Life Drain Gem

,

Lamia's Essence

38
Raptor
Muu Shuwuu
322
-
Wk
-
-
Nul
-
-
-
Zanma, Mazanma, Tetrakarn
Life Stone,

Force Gem

,

Muu Shuwuu's Essence

38
Jirae
Narcissus
342
-
Wk
-
-
Nul
-
-
Res:Confusion, Nul:Charm
Sexy Dance, Tentarafoo, Hellish Mask
Life Stone,

Ox Bezoar

,

Narcissus's Essence

38
Night
Succubus
372
-
Res
Nul
-
-
Wk
-
Nul:Sleep/Charm
Bufula, Spirit Drain, Masukunda
Life Stone,

Charm Gem

,

Succubus's Essence

40
Yoma
Valkyrie
469
-
-
-
-
Wk
Nul
-
Wk:Seal, Res:Charm
Critical Wave, Storm Dracostrike
Life Stone,

Chakra Drop

,

Valkyrie's Essence

40
Snake
Naga Raja
651
-
Wk
Res
Drn
Wk
-
-
-
Ice Breath, Shockbound, Elec Pleroma
Life Stone,

Ice Gem

,

Naga Raja's Essence

41
Haunt
Kumbhanda
448
-
-
-
Wk
Nul
-
-
Wk:Mirage,
Res:Poison/Confusion/Charm
Fatal Sword, Critical Wave, Spirit Drain
Life Stone,

Life Drain Gem

,

Kumbhanda's Essence

42
Vile
Mishaguji
514
-
-
-
Nul
Wk
Wk
Nul
Res:Sleep
Beatdown, Matarunda
Life Stone, Bead,

Mishaguji's Essence

43
Jaki
Macabre
484
-
-
-
-
-
Wk
Nul
Res:Confusion, Nul:Poison
Venom Chaser, Blight, Black Dracostrike
Life Stone,

Poison Gem

,

Macabre's Essence

45
Night
Kaiwan
435
-
-
-
-
-
Wk
Nul
Res:Seal
Mamudoon, Makajamaon
Life Stone,

Dark Gem

,

Kaiwan's Essence
Gallery
References