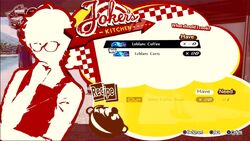 Joker's Kitchen is a mechanic appearing in Persona 5 Strikers.
Appearances
[
]
Profile
[
]
After clearing the Shibuya Jail and obtaining the RV, the protagonist can cook food that restores HP or SP, with some dishes having a secondary effect as well. Additionally, if he cooks a new dish, it increases his BOND with the Phantom Thieves of Hearts.
To cook said dishes, certain ingredients are required; these can be bought from local stores or, at a higher price, Sophia's Shop. Recipes are also necessary, and can be obtained through select stores/restaurants, story events, or by completing Requests.
Recipes
[
]
Dish
Effect
Recipe Acquisition
Ingredients
Leblanc Coffee
Specialty drip coffee.

Restores 30 SP to one ally.

Innate
Select Coffee Beans
Leblanc Curry
A simple dish, and the basis of any good curry recipe. Restores 20 SP to all allies.
Innate
Pork
Onion
Rice

Gyutan

Stew
Slow-cooked beef tongue stew. Tender and savory. Restores 40 HP to all allies.
¥1,620 at Sekigan Butcher Shop, Sendai Station
Gyutan
Onion
Carrot
Salmon Bowl
A rice bowl laden with both salmon and salmon roe. Restores 20 HP to all allies.
¥900 at Café Blue, Mt. Aoba Park
Salmon
Rice
Miso Ramen
Made with special miso.

Restores 20 HP to all allies. Applies Masukukaja effect.

¥850 at No. 1 Ramen Shop, Sapporo
Flour
Miso
Jingisukan
One bite of this lamb BBQ fills your body with energy. Restores 40 HP to all allies.
Talk to Ann near Suzushino in 8/11
Lamb Meat
Cabbage
Onion
Seafood Bowl
A raw fish medley.

Restores 20 SP to all allies. Applies Marakukaja effect.

¥1,000 at Sea Urchin Stand, Sapporo
Tuna
Salmon
Rice
Kyoto Curry
Each bite brings back happy memories of Akane.

Restores 40 SP to all allies.

Automatically obtained on 8/14
Beef
Onion
Rice
Kamo-Nasu Eggplant
Okinawa Soba
More akin to ramen or udon, its flavor is unmistakable. Restores 30 HP to all allies.
¥800 at Haisai Haoma, Okinawa
Flour
Pork
Goat Soup
Peculiar but nutritious.

Restores 30 HP to all allies. Applies Matarukaja effect.

¥1,300 at Bento Fukuhara, Okinawa
Goat Meat
Cooking Awamori
Goya Chanpuru
A bitter dish.

Restores 40 HP to all allies. Applies Masukukaja effect.

Talk to Futaba Sakura on 8/18 after clearing the Okinawa Jail.
Goya
Egg
Pork
Tofu
Kushikatsu
Kansai deep-fried skewers.

Restores 40 HP to all allies. Applies Matarukaja effect.

Talk to Yusuke Kitagawa near Kushikatsu Ganko on 8/24 in Osaka
Beef
Pork
Egg
Onion
Okonomiyaki
A well-known Japanese dish loved by people of all ages. Restores 60 HP to all allies
Purchased at Okonomiyaki Restaurant, Osaka
Flour
Pork
Cabbage
Crab Hot Pot
It's hard to say no to crab hot pot.

Restores 80 HP and 40 SP to all allies.

Purchased at Crab Empire, Osaka
Crab
Tofu
Carrot
Osaka Sushi
Some of Japan's best sushi.

Restores 40 SP to all allies. Applies Marakukaja effect.

Purchased at Sushi Japanese Restaurant Wawaya, Osaka
Tuna
Crab
Egg
Rice
Obanzai
Comfort food, Kyoto style.

Restores 30 HP and cures status ailments for all allies.

Clear the "Obanzai Ingredients" request
Kamo-Nasu Eggplant
Tofu
Carrot
Miso
Churrasco
All the meat you can eat.

Restores 30 HP to all allies. Applies Heat Riser effect.

Clear the "Employee Course Correction" request
Beef
Pork
Lamb Meat
Goat Meat
Master Curry
The ultimate curry, honed by plenty of taste testing. Restores 50 SP to all allies.
Clear the "A Thief's Special Challenge" request
Pork
Onion
Select Coffee Beans
Rice
Master Coffee
The finest quality coffee, brewed Leblanc style.

Restores 50 SP to one ally.

Clear the "Trapped in the Great Tree" request
Select Coffee Beans