Fire Emblem Warriors: Three Hopes - The Loop
Play Sound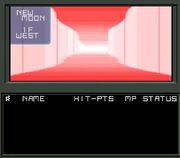 The Inner World (精神世界, Seishin Sekai)? is a location in the series.
Appearances
[
]
Profile
[
]
Shin Megami Tensei
[
]
In order to help the Heroine that is about to be taken over by the spirit of a demon, the Protagonist and the Law Hero, with the help of psycho divers, dive to the Mind World to free her.
Shin Megami Tensei: if...
[
]
The last dungeon of Reiko's route. After defeating Hazama, a portal to his mind is opened. The dungeon is fairly short and has no treasure. Scenes of Hazama's mind can be seen inside five rooms. After defeating Hazama for a second time, Reiko stays behind with him as the protagonist makes their way outside. Karukozaka High School returns to the human world but Reiko, Hazama, and many other students are officially declared as missing.
Enemies
[
]
Green

boxes indicate bosses.
| Demon | Race | Lvl | HP | Sword | Gun | Attack | Tech | Rush | Fire | Ice | Elec | Force | Expel | Curse | Nerve | Magical | Bind | Item |
| --- | --- | --- | --- | --- | --- | --- | --- | --- | --- | --- | --- | --- | --- | --- | --- | --- | --- | --- |
| Nyarlathotep | Vile | 55 | 869 | Wk | Wk | Wk | Wk | - | Rp | Rp | Rp | Rp | Rp | Rp | Rp | Rp | Rp | Diamond |
| Nidhoggr | Drake | 57 | 971 | - | - | - | Rs | - | Wk | Rs | Rs | - | Rs | Rp | Rs | Rs | Rs | Emerald |
| Ganesha | Yoma | 57 | 989 | - | - | - | Rs | - | Wk | Rs | Rs | - | Rs | Rp | Rs | Rs | Rs | Ruby |
| Rangda | Femme | 59 | 879 | - | - | - | Rs | Rs | Wk | Wk | Wk | Wk | Nu | Nu | Nu | Nu | Nu | Dis-Charm |
| Yamata no Orochi | Snake | 59 | 893 | - | - | - | Rs | - | Rs | Rs | Rs | - | Rs | Rs | Rs | - | Rs | Soma |
| Hecate | Tyrant | 60 | 849 | Wk | Wk | Wk | Wk | - | Rp | Rp | Rp | Rp | Rp | Rp | Rp | Rp | Rp | Soma |
| Loki | Tyrant | 61 | 886 | - | - | - | - | - | - | Rs | Rs | - | Nu | Nu | Nu | Rs | Rs | Longinus |
| Pazuzu | Vile | 62 | 942 | - | Rs | - | - | - | Wk | Rp | - | - | Rs | - | - | - | - | Kintan |
| Hazama | Majinnō | 90 | 30,000 | - | Nu | - | Rp | Wk | - | Rp | Dr | - | Rp | Rp | Rp | Rp | Rp | - |