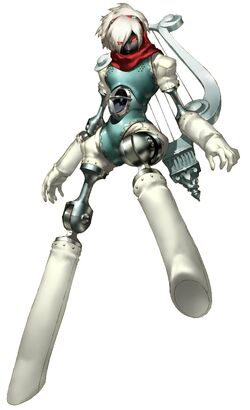 The initial Persona (初期ペルソナ, Shoki Perusona)? is the Persona that represents the most inner thought of its host. As a beginning Persona, its ability is usually relatively weak, so the mythological or historic figure that the Persona takes form is often less significant in the respective mythology or history, though there is some exception.
As the Persona "closest" to the user, the initial Persona will always be able to be summoned by the user, even if they previously returned it or transformed it into another Persona, as shown by Yukino Mayuzumi, Kei Nanjo and Eriko Kirishima having regained their initial Personas in the Persona 2 duology and the Investigation Team having regained their initial Personas in Persona 4 Arena.
Appearances
Edit
List of Initial Personas
Edit
Megami Ibunroku PersonaEdit
Persona 2Edit
Innocent SinEdit
This is the first game in the series which has the more uniformed origins of signature Personas of the playable characters from only the Greek and Roman mythologies. All of them also have fashion design motifs.
Eternal PunishmentEdit
Tsumi to BatsuEdit
Persona 3Edit
All initial Personas of the playable characters are solely from the Greek mythology with Lucia being the odd one out.
* These characters never have their initial Persona evolved or gain more powerful ones.
Persona 4Edit
This is the first game in the Persona series to feature initial Personas from ancient Japanese scriptures or beliefs.
Persona 5Edit
This is the first game to feature initial Personas mostly from modern fictions or historical figures, whether proven or contested.
* Although Goro Akechi and Takuto Maruki's true initial Personas in Persona 5 and Persona 5 Royal are heavily implied to be Loki and Adam Kadmon respectively, Robin Hood and Azathoth are designed to serve as thematic parallels to the Phantom Thieves's initial Personas, originating from folklore/modern fiction rather than any specific mythologies. This is proven not only by the fact that Necronomicon and Azathoth both originate from the same modern mythos, but by the order in which Akechi and Maruki summon their Personas during their boss battles; in both cases, Robin Hood and Azathoth are called out first, after which Loki and Adam Kadmon are invoked for the successive phases.
Community content is available under
CC-BY-SA
unless otherwise noted.