Fire Emblem Warriors: Three Hopes - The Loop
Play Sound
Infiltration Tools (潜入道具, Sen'nyuu dougu)? are craftable items in Persona 5.
Persona 5

[

]
This topic is in need of research for the following reason:
* The specifics of Morgana's praise


This can be discussed on the article's talk page.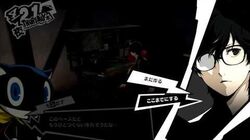 The protagonist is able to craft infiltration tools at the workbench in their attic in Café Leblanc. The protagonist can only use the workbench during evenings, certain Sunday mornings and holidays, and nights before calling cards are sent. The activity passes time. Interacting with the desk skips dialogue and goes straight to the crafting menu, but unless a tool has been crafted, the protagonist can opt out at any time. The activity is first unlocked and demonstrated in a mandatory event on April 17th, where Morgana has the protagonist clean his work desk, before giving him 1 Silk Yarn and Tin Clasp to make a Lockpick.
Infiltration tools serve a variety of functions useful for stealth and intrusion. They can lower a Palace's Security Level, unlock Treasure Chests and escape Palaces. They can be used in battle as well, allowing them to deal damage or avert the enemies' attention towards a specific teammate. A majority of the tools are consumable.
The tools are taught to the protagonist over time by Morgana: by automatically initiating his Confidant on April 15, the protagonist will be able to craft basic infiltration tools. Later on, reaching Rank 6 on July 25 will grant the protagonist access to all remaining tools.
In order to craft tools, the protagonist needs to collect certain materials and convert them into the tool of his choice. They'll be consumed upon crafting. These items can be found and bought in shops, but a few of them can only be discovered in Mementos.
The number of times the protagonist can craft in one time slot is 1 by default, and is boosted by the rank of his Proficiency stat. For example, if their Proficiency is Rank 2, he'll have 3 turns available at any time. In addition, if tools are created during the day on a holiday, the number will increase by 1. In rare cases, roughly 10%, while crafting, Morgana might praise him, having him craft 2 of the same item at once, with the second tool not consuming any materials. This situation can occur multiple times during one session.
Usually, upon crafting, the protagonist's Proficiency rises by 2 points. However, Morgana's praise will also grant him an additional point of Proficiency.
If the protagonist Ranks up Sadayo Kawakami's Confidant up to Rank 1, on certain days, he'll have extra free time in class: crafting infiltration tools is one of his available activities during that period. At Rank 5, free time in class will become more common. However, crafting infiltration tools in class is very limited compared to doing it on his workbench: by default, the protagonist can only build 1 time, and to gain an additional attempt, he'll need to rank up his Proficiency stat by 2 ranks instead of just 1: as such, reaching Rank 3 will extend it to 2 tries, and reaching Rank 5 will reach 3. In Persona 5 only, the protagonist will receive 2 points of Proficiency at the end of the session.
In addition, reaching Rank 7 will allow Kawakami to make infiltration tools in his place.
Persona 5 Royal

[

]
Persona 5 Royal has several changes in how the infiltration tool system functions:
The pool of materials have been changed, as well as the ingredients that some tools might need.
If the protagonist reads the book ABCs of Crafting, it will double the amount of times his Proficiency stat allows him to craft. Additionally, buying the Seeker's Tools from Akiba Electronics in Akihabara will grant the same effect. Merging the two perks together will quadruple the effects of the protagonist's Proficiency level. The multipliers do not take the holiday boost into account, which is instead accumulated afterwards.
If crafting during bad weather, the number of attempts the protagonist will have will be increased by 1. This does not stack with the holiday boost.
The new multipliers also apply in class, although the amount of Proficiency points that can be received has been reduced to 1. The effects of the weather do not apply.
The odds of Morgana's praise occurring has been increased to roughly 20% per attempt. However, the Proficiency point awarded from that can only be received once, and the materials used during that attempt will no longer be blocked from being consumed.
When Sadayo Kawakami is called to craft infiltration tools, now she'll be able to craft half of what the protagonist is able to craft. If it's divided by an odd number, the result is rounded up.
List of Infiltration Tools
[
]
For Morgana's Confidant abilities, see Confidant/Morgana
Items in Sets
[
]
Quotes
[
]
Initiating activity for the first time:
"Don't think too hard about it. You'll get the hang of it.", Morgana, Persona 5
"Everyone starts off a little clumsy. Don't be sad if it doesn't go well at first, OK?", Morgana, Persona 5
Morgana's praise
After a tool is crafted:
"You're definitely getting better. I can tell just by watching you."
"At this pace, you should be able to make one more."
Gallery
[
]
Trivia
[
]
Unused content in the game indicates that infiltration tools would be learned individually via recipes in the form of key items.[1]
| ID | Item |
| --- | --- |
| 0176 | Escape Recipe |
| 0177 | Mist Recipe |
| 0178 | Home Recipe |
| 0179 | Smoke Recipe |
| 0180 | Energy Recipe |
| 0181 | Sleep Recipe |
| 0182 | Bronze Recipe |
| 0183 | Scent Recipe |
| 0184 | Silver Recipe |
| 0185 | Smell Recipe |
| 0186 | Gold Recipe |
| 0187 | Aroma Recipe |
| 0188 | Purify Recipe |
| 0189 | Clone Recipe |
| 0190 | Element Recipe |
| 0191 | Life Recipe |
| 0192 | Forces Recipe |
| 0193 | Almighty Recipe |
| 0194 | Vitality Recipe |
| 0195 | Hyper Recipe |
References
[
]