Fire Emblem Warriors: Three Hopes - The Loop
Play Sound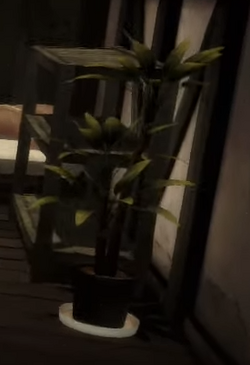 "Oh look! That plant is still alive... We can decorate with it. Even a dreary room can be brightened up with a little green foliage... Let's take good care of this plant so it won't dry up and wither away."
The houseplant is an object in the protagonist's room in Persona 5.
Profile
[
]
The protagonist is able to nurture his houseplant in the attic at Café Leblanc, which first needs to be cleaned for it to be unlocked. Feeding it nutrients allows him to boost his Kindness stat. Depending on the nutrient it's being fed, the amount of Kindness the protagonist is being rewarded with will vary. After feeding it, the plant cannot be fed until 16 days later. Unlike other activities, interacting with the houseplant never takes time.
If the protagonist doesn't have an evening time slot and has to go to bed, he can still interact with the houseplant and tend it before progressing towards the next day. Nights after Palace visits are locked on the ground floor and the protagonist instantly progresses to the next day by going upstairs, so he cannot tend to the houseplant in this scenario, which he can only bypass by maximizing Sadayo Kawakami's Confidant and using her Special Massage ability.
Nutrients
[
]
Name
Effect
Description
Price
Location
Garden Energy
+Kindness (♪)
A cheap plant nutrient.
For those who want basic care for their plants.
¥500
Shibuya Central Street - Rocinante Discount Store
Bio Nutrients
+Kindness (♪♪)
A pricey plant nutrient.
For those who want good care for their plants.
¥1,200
Underground Mall - Rafflesia Flower Shop
Mega Fertilizer
+Kindness (♪♪♪)
A premium plant nutrient.
For those who want serious care for their plants.
¥3,000
Shinjuku - Flower Shop Sukebe