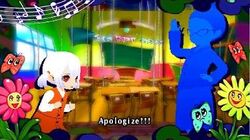 "Hikari is bad!" (ひかりはわるいこ!, Hikari wa warui ko!)? is the first musical encountered in ??? and is credited to (小学生時代のひかり&先生&クラスメイトたち, Shoukakusei Jidai no Hikari to sensei to classmate tachi)?, which consists of Misato Fukuen and several uncredited voice actors.
The events in this musical depict the origin of Kamoshidaman and is one of the events in Hikari's life that accumulated into her borderline suicidal depression and self-loathing.
Lyrics
The following are the official lyrics from Persona Q2: New Cinema Labyrinth Original Soundtrack and the in-game musical.
Original
Romaji
Translation

ひかりは悪い子! (ひかりは悪い子!)

言うことは聞かない! (悪い子!)

わたし、間違ったことしてない!

クラスの和を乱しちゃダメ。 いつも言ってるでちょう!

みんな、先生のこと聞いていればいいの!

どうして? 先生は正しい人の味方じゃないの?

悪い子がいると!

ウサギが死んでしまう!

ひかりのせいで! (死んでしまう!)

ちがう! ちがうもん!

謝れ!

そんなのおかしい!

先生の言うことが絶対!

先生! 話を聞いて!

謝りなさい!!

ご。。。ごめんなさい。。。

たいへんよくできました。

Hikari wa warui ko! (Hikari wa warui ko!)

iu koto wa kikanai! (waruiko!)

watashi, machigatta no koto shite nai!

kurasu no wa wo midashita dame. itsumo itteru deshou!

minna, sensei no koto kiite ireba ii no!

doushite? sensei ha tadashi hito no mikata jya nai no?

warui ko ga iru to,

usagi ga shinde shimau!

Hikari no seide! (shinde shimau!)

chigau, chigaumon!

ayamare!

sonna no okashii!

sensei no iu koto ga zettai!

sensei! hanashii wo kiite!

ayamari nasai!

go...gomenasai...

daihen yoku deki mashita.

Hikari is a bad girl! (Hikari is a bad girl!)

She never listens at all! (Such a bad girl!)

I didn't do anything wrong!

Don't disrupt the class's harmony...That's what I always tell you!

Everyone just needs to do what I say!

Why? Aren't teachers supposed to side with whoever's right?

With such a bad girl around...

The rabbit will end up dead!

It's Hikari's fault... (She's why it'll die!)

No! That's not true!

Apologize!

That's not right!

What the teacher says is always right!

Miss, please listen to me!

Apologize!!!

I...I'm sorry...

Now there's a good girl.
Trivia
The rabbit caretaker kids in this musical resemble Chicken Kid and Buster Girl, indicating they are also cognitive copies mixed with Shadows.