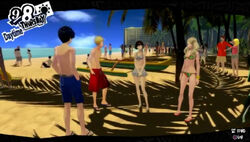 Hawaii (ハワイ, Hawai)? is a location in Persona 5. It is the destination for the Shujin Academy summer school trip.
Appearances
Edit
The students of Shujin Academy visited Hawaii from September 7th to 11th. Students from Kosei High School also had to spend their school trip in Hawaii, because their plane could not fly to the original destination of Los Angeles due to bad weather conditions. The protagonist did not engage in phantom thief activities while waiting for Futaba to analyze data from Sae's laptop.
Here, the thieves find out that their popularity has traveled outside of Japan into the United States, and most of the beach-goers knew about their exploits. The students also discover with dismay that most things are not that different to home; for example, Big Bang Burger opened a restaurant in Hawaii. As for the protagonist, he can spend time with some Confidants found here: either a date with one of the female cast or hanging out with the guys, both at Waikiki Beach on September 10th. The only exception is Haru Okumura as the events happened prior to the Okumura's Palace arc where she makes a proper appearance.
In Royal, the protagonist can interact with Haru before she intrudes Sadayo Kawakami's room while she was making sexy photoshoots. A surprise encounter with Kasumi Yoshizawa also happens in the souvenir shop. This is also the first time where the protagonist's other teammates met her.
The Students of Kosei High School originally going to Los Angeles for a School trip. Due to the bad weather, they were ended up taking a school trip to Hawaii. As a result, the protagonist can enjoy the view of Hawaii with Hifumi Togo or Having hangout with Ryuji Sakamoto, Yuuki Mishima, and Yusuke Kitagawa.
Confidants
Edit
All dates with the female cast involve tasting a local delicacy: Garlic Shrimp. Each date will make a comment on the delicacy, and find out from the stall owner about the popularity of the Phantom Thieves. 
Community content is available under
CC-BY-SA
unless otherwise noted.