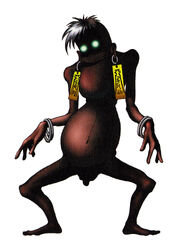 Haunt (幽鬼, Yūki, lit. "Haunting Ghost") or Ghost is a race of demons in the Megami Tensei series. It generally collects the base ghostly beings who bring disaster upon mankind or suffer their inferior life due to the bad karma accumulated from the previous life. Preta is the prominent example featured in the series of the latter kind.
In some installments, some of the demon of this race is instead categorized to the Foul race, and Shin Megami Tensei NINE its members are instead in the Spirit race. They belong to the Evil Spirits species (except in Giten Megami Tensei where they are Demoniacs) and are Dark-Chaos.
Appearances
List of Demons
Megami Tensei
Megami Tensei II
Shin Megami Tensei
Shin Megami Tensei II
Shin Megami Tensei: if...
Shin Megami Tensei: 20XX
20XX Devil's Colosseum
Shin Megami Tensei III: Nocturne
Shin Megami Tensei IMAGINE
Shin Megami Tensei: Strange Journey
Shin Megami Tensei IV
Shin Megami Tensei IV Apocalypse
Shin Megami Tensei: Devil Summoner
Devil Summoner: Soul Hackers
Giten Megami Tensei: Tokyo Mokushiroku
Megami Ibunroku Persona
Races (called Orders) are for enemies only, for demons used by the player, see Arcana.
Devil Survivor 2
The Haunt race is known as the Ghost race in this game. Ghosts have the Ghost Wound ability, which can affect an enemy team from up to 3 squares away. Said team has its movement range halved, and its attack/heal range reduced to 1, effectively negating the range-boosting abilities of Dragons and Viles. The effects of this can be completely countered using Evil Flow, the upgraded Dragon racial ability. Stronger Ghosts have this ability changed to Possession, which also curses the affected team, preventing them from regaining HP or MP.
In Other Languages
Language
Name
Meaning
English
Haunt
Ghost
Haunt
Ghost
Japanese
幽鬼 (Yūki)
Haunting Ghost
French
Revenant
Revenant
Italian
Spettro
Specter
German
Spuk
Ghost
Spanish
Cazador
Hunter