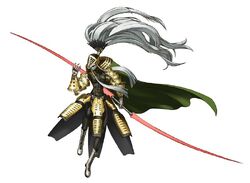 Haraedo-no-Okami (ハラエドノオオカミ Haraedonoookami) is a Persona in the series.
Haraedo-no-Okami (祓戸大神) are the Shinto goddesses of purification. They were born when Izanagi performed the Misogi ritual in order to cleanse the netherworld filth on him after he had returned from Yomotsu Hirasaka to futilely retrieve his late consort Izanami. The Haraedo deities include Seoritsu-Hime, Haya'akitsu-Hime, Ibukidonushi and Hayasasura-Hime, who are worshipped inseparably.
Appearance
Edit
Persona 4 GoldenEdit
Chie Satonaka's new Ultimate Persona after the player has maxed out her Social Link, and talked to her after 1/10.
Persona 4 GoldenEdit
| Inherit | Resists | Block | Absorbs | Reflects | Weak |
| --- | --- | --- | --- | --- | --- |
| N/A | - | Light | Ice | - | Fire |
List of Skills

Skill
Cost
Effect
Level
Skewer
5% HP
Deals light Phys damage to 1 foe.
Innate
Tarukaja
12 SP
Increases 1 ally's Attack for 3 turns.
Innate
Bufu
4 SP
Deals light Ice damage to 1 foe.
7
Skull Cracker
9% HP
Deals light Phys damage to 1 foe with a chance of Confusion.
11
Mabufu
10 SP
Deals light Ice damage to all foes.
14
Rampage
12% HP
Deals light Phys damage to all foes 1x to 3x.
20
Assault Dive
9% HP
Deals light Phys damage to 1 foe.
22
Counter
Passive
10% chance of reflecting Phys attacks.
24
Gale Slash
12% HP
Deals light Phys damage to all foes.
29
Apt Pupil
Passive
Increases user's Critical Rate.
33
Auto-Tarukaja
Passive
Automatic Tarukaja at the start of battle.
36
Black Spot
16% HP
Deals medium Phys damage to 1 foe.
38
Counterstrike
Passive
15% chance of reflecting Phys attacks.
43
Heat Wave
16% HP
Deals medium Phys damage to all foes.
46
Power Charge
15 SP
Next physical attack will be 250% greater in power.
52
High Counter
Passive
20% chance of reflecting Phys attacks.
61
Rainy Death
20% HP
Deals heavy Phys damage to 1 foe.
67
God's Hand
22% HP
Deals severe Phys damage to 1 foe.
70
Agneyastra
24% HP
Deals heavy Phys damage to all foes 1x to 3x.
74
Dragon Hustle
150 SP
Increases all allies' Attack, Defense
and Hit/Evasion rate for 3 turns.
Max SL Winter Event