Arcane: League of Legends - The Loop
Play Sound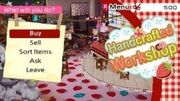 The Handcrafted Workshop (てづくりこ〜ぼ〜?) is a location in Persona Q: Shadow of the Labyrinth.
Profile
Persona Q: Shadow of the Labyrinth
While discussing getting weapons and armor to use against the shadows, Rei suggests they go to a room she knows that has things lying around. She takes them to the Handcrafted Workshop, which resembles Yasogami High School's art room and was being used to teach how to make small toys during the festival.
It is here that the characters buy and sell items and equipment made by Margaret at the beginning of the Persona 4 route, who also looks after items they leave behind while venturing into the Labyrinth. In the Persona 3 route and after the casts meet, Theodore manages it.
Gallery