Fire Emblem Warriors: Three Hopes - The Loop
Play Sound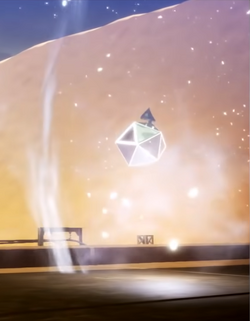 Glory (御厳, Miitsu)? is a special currency in Shin Megami Tensei V. It is the manifestation of God's dignity found in Da'at.
Profile
[
]
Glory can be used to obtain Miracles in the World of Shadows. There are various means to obtain Glory:
Interacting with Amalgams (イツヅカ, Itsuzuka)

?

. the value goes up with each area:
Finding Miman scattered around Da'at. The value goes up depending on the area they are in:
Glory Crystals, consumable items of varying sizes that can be exchanged for Glory once used. These can be dropped by Nigi Mitama and the Fiends from the Return of the True Demon DLC, as well as be rewarded in certain subquests.

Small - 10 Glory
Large - 100 Glory
Trivia
[
]
The Amalgams are similar in the shape of an apple, with a dodecahedron core mimiking the apple's roundness, a leaf stalk, as well as the respective crunching and swallowing sound effects that play upon interacting with it. This reflects the game's recurring motif of the fall of man, where Adam and Eve are tempted by a serpent to eat the Forbidden Fruit of Knowledge, an act forbidden by God.

In Shin Megami Tensei V, the Forbidden Fruit of Knowledge was the materialized form of the Knowledge of the myriad gods seized by the God of Law, not sparing His angels either. He then locked it away in His Paradise, where it took the form of fruit, while the angels and gods regressed to that of demons. Man then ate the fruit, and gained the Knowledge of the gods and angels.