World of Warcraft: Dragonflight - The Loop
Play Sound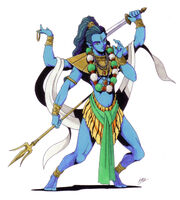 The Fury, Destroyer, or Omega, known as Destruction God (破壊神, Hakaishin)? in Japan are gods of wrath and destruction. The objective of this destruction can vary, however it's usually in preparation for the upcoming rebirth of the world. In the Megaten series, they're all bruisers, focused on dealing out heavy amounts of physical damage, though they fall short in other areas. Like Deities, they are somewhat difficult to fuse.
They are Light-Chaos and belong to the Guardians species. Before Shin Megami Tensei II, demons of Tenma race share the similar mythological role with Hakaishin, except that all Tenma demons are originated from Hindu or Asian pantheons. Shiva and Seiten Taisei (Wu Kong) are the remaining demons transferred from Tenma to Hakaishin race and still actively recurring throughout the series. It was noticeably absent in Devil Survivor (where some of its members appeared in the Deity race instead), before returning in Devil Survivor 2.
Appearances
List of Demons
Shin Megami Tensei II
Shin Megami Tensei: if...
Shin Megami Tensei: 20XX
20XX Devil's Colosseum
Shin Megami Tensei NINE
Shin Megami Tensei III: Nocturne
Shin Megami Tensei IMAGINE
Shin Megami Tensei: Strange Journey
*Available only in Redux
Shin Megami Tensei IV
Shin Megami Tensei IV Apocalypse
Shin Megami Tensei V
Shin Megami Tensei: Devil Summoner
Devil Summoner: Soul Hackers
Giten Megami Tensei: Tokyo Mokushiroku
"Destroyers who enable new periods of creation.  As agents of violent change, they represent severe aspects of nature.  Among their roles are storm god, fire god, war god, netherworld god, etc. They despise indolence and are tough on themselves and Earth dwellers.  They are often dangerous to humans."
Digital Devil Saga: Avatar Tuner 2
Originally called Demon God in the Japanese version.
Devil Survivor 2
The Fury race is known as Omega in this game. The Omega race has the Asura Karma Racial Skill, which allows the team to gain Double Extras (a second Extra Turn) by hitting a weakness or scoring a critical hit during the Extra Turn phase. Stronger Omega have this skill changed to Asura Destiny, which also grants a greater chance of team members starting combat with an Extra Turn. Omega are also notable in that every member of their race is unique.
*Available only in Record Breaker.
In Other Languages
Language
Name
Meaning
English
Fury
Destroyer
Omega
Fury
Destroyer
Omega
Japanese
破壊神 (Hakaishin)
Destruction God
French
Furie
Fury
Italian
Furia
Fury
German
Zorn
Fury
Spanish
Furia
Fury