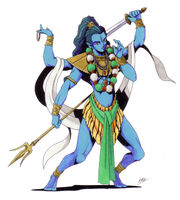 The Fury, Destroyer, or Omega, known as Destruction God (破壊神, Hakaishin)? in Japan are gods of wrath and destruction. The objective of this destruction can vary, however it's usually in preparation for the upcoming rebirth of the world. In the Megaten series, they're all bruisers, focused on dealing out heavy amounts of physical damage, though they fall short in other areas. Like Deities, they are somewhat difficult to fuse.
Before Shin Megami Tensei II, demons of Tenma race share the similar mythological role with Hakaishin, except that all Tenma demons are originated from Hindu or Asian pantheons. Shiva and Seiten Taisei (Wu Kong) are the remaining demons transferred from Tenma to Hakaishin race and still actively recurring throughout the series.
Fury Order (蛮力属, Banryoku zoku)? demons are a classification that tend to focus on physical attacks in the Devil Summoner: Raidou Kuzunoha games. They have the skill Use Force, which allows them to break objects blocking ones path in the game. They tend to give Fury type metals as gifts.
Appearances
Edit
List of Demons
Edit
Shin Megami Tensei IIEdit
Shin Megami Tensei: if...Edit
Shin Megami Tensei: 20XXEdit
20XX Devil's ColosseumEdit
Shin Megami Tensei NINEEdit
Shin Megami Tensei III: NocturneEdit
Shin Megami Tensei IMAGINEEdit
Shin Megami Tensei: Strange JourneyEdit
*Available only in Redux
Shin Megami Tensei IVEdit
Shin Megami Tensei IV ApocalypseEdit
Shin Megami Tensei: Devil SummonerEdit
Devil Summoner: Soul HackersEdit
Devil Summoner: Raidou Kuzunoha vs. The Soulless ArmyEdit
Devil Summoner 2: Raidou Kuzunoha vs. King AbaddonEdit
Giten Megami Tensei: Tokyo MokushirokuEdit
Digital Devil Saga: Avatar Tuner 2Edit
Originally called Demon God in the Japanese version.
Devil Survivor 2Edit
The Fury race is known as Omega in this game. The Omega race has the Asura Karma Racial Skill, which allows the team to gain Double Extras (a second Extra Turn) by hitting a weakness or scoring a critical hit during the Extra Turn phase. Stronger Omega have this skill changed to Asura Destiny, which also grants a greater chance of team members starting combat with an Extra Turn. Omega are also notable in that every member of their race is unique.
*Available only in Record Breaker.
Community content is available under
CC-BY-SA
unless otherwise noted.