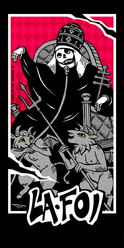 The Faith Arcana (信念, Shinnen)? is an Arcana appearing in Persona 5 Royal.
Like the Aeon Arcana and Hunger Arcana, the Faith is not found in standard tarot decks. The Faith Arcana is present in the Visconti-Sforza tarot deck. Upright, it represents belief in others and in oneself, and in religion or science. On the other hand, reversed, it can represent blind faith misplaced in something that does not deserve trust. It can also mean false idols, or overconfidence.
Personas of this Arcana are generally well-beloved legendary heroes or celestial beasts.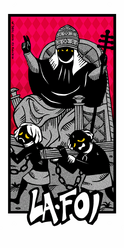 The Faith Arcana is represented by the Confidant with Kasumi Yoshizawa. It is a unique Arcana and lacks a number. It is also unique amongst the other Confidants as it is the sole Arcana with a black border in game.
The Arcana is unique as it maxes at five ranks before Kasumi is exposed to be a fake overwriting Sumire's memories by Takuto Maruki's cognition-warping powers. After accepting her true self, the arcana repairs itself, gaining a white border, and can progress to rank 10 like all other Arcana.
As the Confidant reaches the true maximum, Sumire's Persona, Cendrillon will transmogrify into Vanadis. Sumire's third tier Persona is Ella. Completing the Faith Arcana Confidant at 10 ranks will also bestow the ultimate form of the Arcana, Maria.
This Arcana can be found in the Visconti di Modrone tarot deck.
Unlike most tarot cards in the Persona series, this Arcana is not numbered (and appears as the last one in the game's Confidant list), similar to other cards in the Visconti di Modrone deck. Additionally, the border surrounding the card is black and has tears around the border, whereas the other Arcana cards in Persona 5 have a white border and lack damage around the borders. This foreshadows that Kasumi is in fact, a fake.
The Faith Confidant with Kasumi initially only has five ranks, hinting that there is more to Kasumi than what is believed.
The Ultimate Persona of the Faith Arcana is Maria, a homage to the artificial goddess of the Ideal Realm of Shin Megami Tensei NINE who was persuaded to free its inhabitants from it. The Ideal Realm that Maria reigns also possesses similarities to the product of Takuto Maruki's cognition warping powers.
Community content is available under
CC-BY-SA
unless otherwise noted.