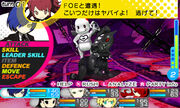 F.O.E, or Fysis Oikein Eidolon, is a special type of Shadow that appears in Persona Q: Shadow of the Labyrinth.
Taking inspiration from the FOE concept from the Etrian Odyssey franchise, F.O.Es are powerful enemies that can be seen on the map, as opposed to the random encounters of common dungeon enemies. Their movements are always in a fixed pattern along the map (except for red icon F.O.Es, which chase the party), taking one step for every step the player takes, which makes it relatively easy for players to avoid them while aiming for full map completion. Note that spaces occupied by stationary F.O.Es and spaces rendered unreachable due to the presence of an F.O.E are not required to attain 100% Map Completion, however if any such space can be reached without encountering the F.O.E, usually through clever maneuvering, then it must be stepped on to complete that floor's map.
If a player is caught in a random battle while on an F.O.E's path or while being chased by an F.O.E, the F.O.E will continue moving as the battle progresses, taking one step per turn, and may even join the battle. These Shadows are recommended to be avoided except for those looking for challenging fights. Fortunately, for those unfortunate enough to run into an F.O.E, escaping from them is relatively easy - unless the player is on Risky difficulty, where they absolutely cannot run from an FOE battle.
They are introduced within the first map of the game and defeating them allows players to gain higher level Persona, scaled to the hero's level but only to a maximum of ~15 levels above the FOE's, and materials used to create powerful equipment. After clearing a labyrinth, Elizabeth will put up a request that will require a player to hunt a specific type of F.O.E from that dungeon.
Utilizing the F.O.E's behavior will make up some of the puzzles in labyrinth navigation. All F.O.Es will reset to their original position and behavior when the player passes through a door, but not when they use a secret passage.
Advancing forward onto a square occupied by an FOE which is looking away from the player will grant the player a surprise round. The inverse is possible, where an FOE gets a surprise round if it catches up to a player while they are looking in a different direction.
In a Persona Stalker Club segment introducing the concept, the hosts spend nearly an hour challenging a F.O.E with a team created for them by the Persona team.
List of F.O.Es
Edit
All F.O.Es in this dungeon hate light and will either disappear in lit rooms or not follow the player into lit patches.
In this stratum, not only is the Holy Flame vital to passing through several doors, it will also alter the behaviour of the F.O.Es.
External Links
Edit