Raise a Floppa - The Loop
Play Sound
Prime redirects here. For the prime form of persona, see Prime Persona.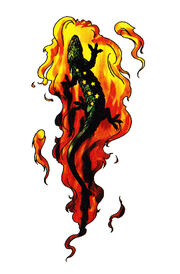 The Elements or Prime (精霊, Seirei, lit. "spirits") are a recurring type of demon in the series. They are named as such due to their being representations of the four elements: earth, fire, wind and water. Several titles divide them between high-level and low-level elementals. They belong to the Elementals species and are Light-Neutral, or Neutral-Neutral in some games.
Elements are usually created by fusing two demons of the same race (except for some "high-tier" races, Element or Mitama). Fusing two different Elements will give a Mitama instead, or simply be impossible to do in some early installments.
Element demons generally do not stand out as combatants. They are more often used in demon fusion, wherein the other demon fused with it will always result in the next higher or lower level demon of the same race. This helps the player to complete the Demonic Compendium more quickly without fiddling with the fusion chart, but the trade off may be a demon with lackluster skills compared to normal fusion combinations.
Appearances
List of Demons
Megami Tensei
Megami Tensei II
Shin Megami Tensei
Shin Megami Tensei II
Shin Megami Tensei: if...
Shin Megami Tensei: 20XX
Shin Megami Tensei NINE
Shin Megami Tensei III: Nocturne
Shin Megami Tensei IMAGINE
Shin Megami Tensei: Strange Journey
Shin Megami Tensei IV
Shin Megami Tensei IV Apocalypse
Shin Megami Tensei V
Majin Tensei II: Spiral Nemesis
Demons of this race can be made either by mixing two demons of the same race or by trading in goods at the Rag Shop, which will give an Element based on the goods.
Shin Megami Tensei: Devil Summoner
Devil Summoner: Soul Hackers
Devil Summoner 2: Raidou Kuzunoha vs. King Abaddon
Element Order is a classification of Demon. They appear in 4 different Training Halls in different parts of the capital but cannot be recruited, instead Raidou must fuse them. Like other games fusing Elements together create Mitamas. They tend to drop gemstones or give them as gifts. Elements have no skills that can be used on the field.
Giten Megami Tensei: Tokyo Mokushiroku
"Elementals who form the building blocks of existence. They are omnipresent in the living world, supporting it. Weaker Elements lack personalities and display clearly visible patterns and symbols. Stronger nature Elements have basic personalities tailored to their attributes."
Devil Survivor
Devil Survivor 2
See also
In Other Languages
Language
Name
Meaning
English
Element
Prime
Element
Prime
Japanese
精霊 (Seirei)
Spirit
French
Élément
Element
Italian
Elementale
Elemental
German
Element
Element
Spanish
Elemental
Elemental