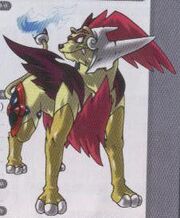 Dred Cat, known as God Sol Leon (ゴッドソルレオン, Goddosorureon) in Japan, is a demon in the series.
Appearances
Edit
DemiKids Light/Dark VersionEdit
Dred Cat can perform the combo True Veil with Marduk and Soul Eater with Raphael.
Devil Children Messiah RiserEdit
Rand can evolve into Dred Cat after beating Hecatoncheir. Dred Cat is the first choice given by him.
DemiKids: Light & Dark VersionEdit
| Class | Element | Type | Exp | Level | HP | MP |
| --- | --- | --- | --- | --- | --- | --- |
| King | Light | Myth | 835 | 45 | 468 | 231 |

| ATK | DEF | MGC | RES | SPD | LCK |
| --- | --- | --- | --- | --- | --- |
| 42 | 41 | 47 | 45 | 45 | 40 |
List of Skills

Skill
Element
Cost
Effect
Light Howl
Light
25 HP
Small dmg. Foes
Healmor All
Light
18 MP
Major HP recovery. Party
Resurrect
Light
25 MP
Revive +Max HP. 1 Ally
Glowmax
Light
35 MP
Large dmg x2. Foes
Healmax
Light
20 MP
Full HP recovery. 1 Ally
Healmax All
Light
30 MP
Max HP recovery. Party
Devil Children: Fire/Ice BookEdit
| Class | Element | Type | Exp | Level | HP | MP |
| --- | --- | --- | --- | --- | --- | --- |
| King | Light | Myth | 835 | 45 | 468 | 231 |

| ATK | DEF | MGC | RES | SPD | LCK |
| --- | --- | --- | --- | --- | --- |
| 42 | 41 | 47 | 45 | 45 | 40 |
List of Skills

Light Howling
Mediala
Samarecarm
Mahanma
Diarahan
Mediarahan
Devil Children Messiah RiserEdit
| Number | Element | Weakness | Type | Level | HP | MP |
| --- | --- | --- | --- | --- | --- | --- |
| 90 | Light | Dark | Myth | - | 220 | 230 |
| ATK | MGC | DEF | RES | SPD | Quick | Call | Spell |
| --- | --- | --- | --- | --- | --- | --- | --- |
| 16 | 18 | 4 | 7 | 15 | 43 | - | Megido Flare |