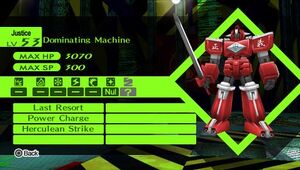 Dominating Machine (圧倒の巨兵, Attō no Kyohei) is a Shadow in the series.
Appearances
Edit
The Dominating Machine first appears as a sub-boss within the Secret Laboratory on B4F. In order to access the area where the boss is waiting, the Research Card must be acquired from a chest in B6F. The boss variant of this Shadow will constantly use Power Charge followed by Herculean Strike. The protagonist can turn this to their advantage by equipping a persona that repels Physical attacks, which will allow them to act unchecked while the rest of the party guards against the boosted damage. This boss also has hidden resistance which lightly reduces damage from Physical, Fire, Electricty, Wind and Almighty skills but it will take slightly more damage from Ice skills. Once enough damage has been inflicted on the Dominating Machine and it begins its low health animation, it will use Stand By for three turns followed by Last Resort. Defeating the boss grants access to a chest containing the Leader Card and with it, the rest of the dungeon.
The normal variant of the Dominating Machine appears on B5F, B6F, and B8F of the dungeon, still nullifying Light/Dark attacks but with no hidden resistances and different attacks. It will follow the same pattern of using Power Charge before attacking, but will attempt to use Cruel Attack on a downed character. This version take significantly more damage from attacks. Collecting 6 pieces of Damascus from defeating Dominating Machines and selling them to Daidara will unlock the Gardenia Sword for the protagonist.
In Golden, the normal variant appears in B7F and B8F. It may also drop Rose Quartz for trade at Shiroku Pub.
Persona 4Edit
Community content is available under
CC-BY-SA
unless otherwise noted.