The music of the Digital Devil Saga series is primarily composed by Shoji Meguro with a few tracks of the first game handled by Kenichi Tsuchiya. An individual soundtrack was first released for the first game in 2004, but it lacks most cut-scene pieces. The music of the second game was initially released as a "pack-in bonus" with the English version of the game itself. Eventually, an "Integral" version soundtrack which contains all tracks (including the missing cut-scene tracks of the first soundtrack) of both games was released in Japan in 2005.
Track list
Edit
Digital Devil Saga: Avatar TunerEdit
Song titles of the first soundtrack are mostly identical to the Integral soundtrack.
Digital Devil Saga: Avatar Tuner 2Edit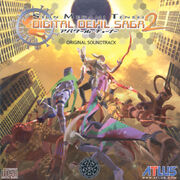 2nd no.
2nd title
Int no.
Integral title
Occurrence
3.01
Alive
Opening theme sung by Kayoko Momoda
2
Om Mani Padme Hm
3.02
Om Mani Padme Hm
Prologue part 1
3.03
The Atonement
Title screen and prologue part 2
3.04
The End Of The Junkyard
Prologue part 3
3.05
Hide Out
8
Backtracking
3.06
Amaravati
Occupied Sector 1
4
Occupied Sector
3.07
Man Hunting
Occupied Sector 2
3.08
Road To Sodom
Underwater Cable 1
3.09
Road To Sodom - The Second Movement
Underwater Cable 2
3.10
Recollection
6
Coercion
3.11
Coercion
3.12
Has The Love Inside You Died?
3.13
Betrayer
9
Internment Facility
3.14
Meeeeaaaat! Processing Plant
10
Prison Break
3.15
Prisoner's Nightmare
Chasing by warden
5
Underground City
3.16
Underground City
Theme of Lokapala
11
Karma City
3.17
Urban Area
3.18
Scheme Of Betrayal
19
Inherent Will
3.19
Inherent Will
3.20
Tribhvana
13
Heat's Theme
3.21
Heat
16
Infiltration
3.22
Power Plant Dome
12
Karma Society Tower
3.23
Tower Of Reunion
15
EGG Facility
3.24
Egg Of The Universe
3.25
Angel
3.26
Defeat
Game over
3.27
Scream
3.28
This Isn't Very Interesting Either
Cielo's frustration
3.29
Mad Mart
Shop
3.30
Karma Terminal
Save point
3.31
Mantra
Mantra grid
4.01
Indra
18
Karma
4.02
Karma
Roland's confession
4.03
Meghnada
4.04
What Is It To Live A Life
Argilla's scene (remix of the namesake of the first game)
4.05
Schrodinger
1
Battle for Survival
4.06
Battle For Survival
Normal battle
14
Madness
4.07
Madness
Berserk Mode battle
21
Hunting - Betrayal
4.08
Hunting
Major boss battle (remix of "Hunting" of the first game)
3
Epic Battle
4.09
Heroic Battle
Minor boss battle
4.10
Relief
Victory
4.11
Level Up
4.12
Memory
Truth of 5 years ago
4.13
Let Him Go
22
The Bell Tolls
4.14
No Regret
23
Regret
4.15
Regret
Angel's memory of David
20
EGG Facility Revisited
4.16
Five Years Before
17
Power Plant
4.17
Rest In Peace, My Friend
24
Airport
4.18
One-Way Stairs
25
The Sun
4.19
Nirvana
4.20
To The Sun
4.21
Seraph
26
Enemies Reborn
4.22
Big Battle
Asura boss battle (remix of "Big Battle" of the first game)
4.23
Epic Battle - Prelude
7
Heroic Battle
4.24
Epic Battle
Major boss battle
27
Divine Identity
4.25
Brahman
Final Boss
4.26
Entreaty
28
One Word
4.27
One Word
Enlightenment
29
The Rising Sun
4.28
The Rising Sun
Epilogue
30
Om Mani Padme Hm - Rearrangement
4.29
Om Mani Padme Hm -Staff Roll Arrange-
Staff Roll (part 1)
Song titles of "Epic Battle" and "Heroic Battle" are notably reversed in the second (English) soundtrack and the Integral soundtrack.
Ending song "Time Capsule" is not included in any original soundtrack of the game.
Community content is available under
CC-BY-SA
unless otherwise noted.