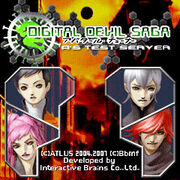 Digital Devil Saga: Avatar Tuner: A's TEST Server (デジタル・デビル・サーガ アバタール・チューナー A's TEST Server) is an RPG published by Atlus and Bbmf through the Megaten α service and developed by Interactive Brains for mobile phones.
Japan: December 7th, 2006 (iAppli)
Japan: February 26th, 2007 (iAppli Complete Edition)
Japan: April 18th, 2007 (S!Appli)
Japan: September 13th, 2007 (EZAppli)
A's TEST Server is an original story taking place in the Digital Devil Saga series. It begins when the protagonist Serph awakens in an enormous tower with no memories. The player takes on the role of Serph as he attempts to find out what happened to his memories. The game uses a press-turn system and is similar to how it functioned in the original game with some slight changes.
After the initial release, it was released as Digital Devil Saga: Avatar Tuner: A's TEST Server Complete Edition (DIGITAL DEVIL SAGA アバタール・チューナー A's TEST Server 完全版). Only the iAppli release listed it with this title. Other releases just used the original name on the complete edition release. The complete edition included an ending beyond the fifteenth floor and the character Heat, who didn't appear in the original version. This version also added vendors to buy and sell items as well as recovery terminals.
Due to its size, some phones necessitated the use of an SD memory card.
Community content is available under
CC-BY-SA
unless otherwise noted.