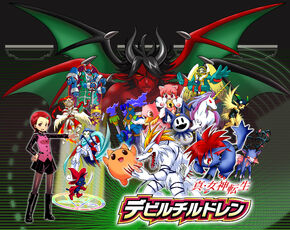 Shin Megami Tensei: Devil Children (真・女神転生 デビルチルドレン) is a RPG for mobile phones released through GREE.
Release Date
Edit
Devil Children is a social RPG that is set within the Devil Children series, reusing elements and characters from the previous games. Players take the role of devil children. Demons can be acquired through quests and gacha and strengthened through fusion and battles. Once per day, players can participate in a tournament battle against other players. Social elements also include collaborative fusion and an apprenticeship system. It regularly hosts events where players could obtain more powerful demons, as well as ones such as 10 versus 10 tournament.
It released seasonal variants of some demons such as a Christmas-themed Atropos or an Autumn-themed Koropokkur and dark variants of many of its demons. New demon designs were also made for the game, such as a baby Berith.
Etrian Odyssey artist Yuji Himukai drew updated character art for both Mirai Kaname and Setsuna Kai for this release.
Community content is available under
CC-BY-SA
unless otherwise noted.