Fire Emblem Warriors: Three Hopes - The Loop
Play Sound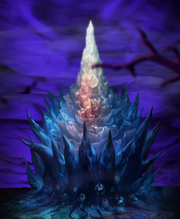 Devil's Peak (悪魔の山?) is a location in Megami Ibunroku Persona.
Appearances
[
]
Profile
[
]
Devil's Peak is the bonus dungeon for the Snow Queen Quest half of the game. Floors 2-3 are available after completing Hypnos Tower, Floors 4-5 are available after Nemesis Tower, Floors 6-7 are available after Thanatos Tower, and Floors 8 and above opens after completing the Ice Castle.
In the PSX version, not every enemy appears during the Snow Queen Quest, which prevents the player from acquiring the Avatar Totem. This has been corrected in the PSP version, as every enemy appears in Devil's Peak.
Enemies
[
]
Grey

boxes denote rare enemies.
Element encompasses Fire, Ice, Wind and Earth. Force encompasses Electric, Nuclear, Gravity and Blast.
Vulnerability means that the demon receives 125% of damage from that type of attack, instead of the 200% associated with weakness.
| Demon | Order | Level | HP | Weak | Resist | Null | Absorb | Repel | Item |
| --- | --- | --- | --- | --- | --- | --- | --- | --- | --- |
| Mr. Zombie | Grave | 1 | 10 | Element, Force | - | Guns | - | - | QQ Helmet |
| Slime | Foul | 1 | 18 | Element, Force | - | - | - | - | Silver Prayer Wheel |
| Pixie | Fairy | 2 | 12 | Force | - | - | - | Wind | Life Stone |
| Poltergeist | Spirit | 2 | 20 | Sword, Fire, Expel | - | Guns, Tech, Rush | - | - | Life Stone |
| Preta | Haunt | 3 | 30 | - | Magic | - | - | Guns | Dis-Poison |
| Zombie Boy | Grave | 3 | 30 | Element, Force | - | Guns | - | - | Metal Card |
| Knocker | Jirae | 4 | 40 | Wind, Blast | - | - | Earth | - | Arm Guard |
| Zombie Girl | Grave | 4 | 40 | Element, Force | - | Guns | - | - | Magical Guard |
| Quicksilver | Spirit | 5 | 50 | Sword, Fire, Expel | - | Guns, Tech, Rush | - | - | Core Shield |
| Zombie Nurse | Grave | 5 | 50 | Element, Force | - | Guns | - | - | Medicine |
| Cait Sith | Beast | 6 | 45 | Whip, Gun | - | Tech, Rush | - | - | Slick Drop |
| Nacht Kobold | Night | 7 | 29 | Physical | - | - | Element, Force | - | Scalpel |
| Jack Frost | Fairy | 8 | 48 | Force | - | - | - | Ice | Mabufu Stone |
| Ihika | Brute | 8 | 80 | Axe, Death, Curse | Element, Force | - | - | - | Mop |
| Ghost | Spirit | 8 | 80 | Sword, Fire, Expel | - | Guns, Tech, Rush | - | - | Magical Guard |
| Hoodlum | Foul | 8 | 88 | Element, Force | - | - | - | - | Revival Bead |
| Ukobach | Fallen | 9 | 90 | Ice | - | - | 100% Fire, Death | - | Turtle Candy |
| Afanc | Wilder | 9 | 74 | Whip, Gun | - | Tech, Rush | - | - | Dis-Para |
| Agathion | Yoma | 10 | 70 | Force | - | - | - | 50% Fire | Medicine |
| Ba | Flight | 10 | 60 | Gun | - | Wind | - | - | Metal Card |
| Leprechaun | Jirae | 11 | 110 | Wind, Blast | - | - | 100% Earth | - | Mamagna Stone |
| Zombie Cop | Grave | 11 | 110 | Element, Force | - | Guns | - | - | Dis-Para |
| Cu Sith | Beast | 12 | 90 | Whip, Gun | - | Tech, Rush | - | - | Shadow Needle |
| Fuji Musume | Haunt | 12 | 120 | - | Magic | - | - | Guns | Dis-Para |
| Nightmare | Night | 13 | 91 | Physical | - | - | Element, Force | - | Paralama Stone |
| Gremlin | Jaki | 13 | 130 | Force | - | - | - | 50% Ice | Slick Drop |
| Angel | Divine | 14 | 140 | Physical, Death, Curse | - | - | Element, Force | - | Athame Knife |
| Moh Shuvuu | Raptor | 14 | 100 | Guns | - | Weapons, Force | - | - | Mazan Stone |
| Pyro Jack | Fairy | 15 | 90 | Force | - | - | - | Fire | Maragi Stone |
| Cockatrice | Drake | 15 | 225 | Fire, Ice, Earth | - | - | Wind | - | Dis-Stone |
| Dribbler | Spirit | 15 | 150 | Sword, Fire, Expel | - | Gun, Tech, Rush | - | - | Guten Tag |
| Yakuza | Foul | 15 | 165 | Element, Force | - | - | - | - | Plasma Sword |
| Hannya | Brute | 16 | 160 | Death, Curse | Element, Force | - | - | - | Guren no Muchi |
| Nue | Wilder | 16 | 132 | Whip, Gun | - | Tech, Rush | - | - | Medicine |
| Yomotsu-Shikome | Femme | 17 | 170 | Element | - | - | - | Nuclear | Silver Prayer Wheel |
| Nisroc | Fallen | 17 | 170 | Physical | - | Magic * | - | - | Slick Drop |
| Gandharva | Yoma | 18 | 126 | Nuclear, Blast, Gravity | - | - | Electric | - | Fauchard |
| Rusalka | Fairy | 18 | 108 | Force | - | - | - | Ice | Turquoise |
| Lilim | Night | 19 | 133 | Physical | - | - | Element, Force | - | Poisma Stone |
| Toufei | Flight | 19 | 144 | Guns | - | Wind | - | - | Magaru Stone |
| Ogre | Jaki | 19 | 190 | Force | Element | - | - | - | Onyx |
| Bukimi | Spirit | 19 | 170 | Sword, Fire, Expel | - | Guns, Tech, Rush | - | - | Majou-Sen |
| Nekomata | Beast | 20 | 150 | Whip, Gun | - | Tech, Rush | - | - | Turtle Candy |
| Kobold | Jirae | 20 | 200 | Wind, Blast | - | - | Earth | - | Life Stone |
| Demon | Order | Lvl | HP | Weak (Vulnerable) | Resist | Null | Absorb | Repel | Item |
| --- | --- | --- | --- | --- | --- | --- | --- | --- | --- |
| Bukimi | Spirit | 19 | 170 | Sword, Fire, Expel | - | Guns, Tech, Rush | - | - | Majou-Sen |
| Kobold | Jirae | 20 | 200 | Wind, Blast | - | - | Earth | - | Life Stone |
| Archangel | Divine | 21 | 210 | Physical | - | Element, Force | - | - | Kokuteki Bow |
| Enku | Haunt | 21 | 210 | Magic | - | - | - | 200% Gun | Malachite |
| Yato no Kami | Snake | 22 | 308 | Element, Force | Physical | - | - | - | Iron Claw |
| Cath Palug | Wilder | 22 | 193 | Whip, Gun | - | Tech, Rush | - | - | Rattle Drink |
| Dark Elf | Fairy | 23 | 138 | Force | - | - | - | 50% Wind | Physical Guard |
| Wyvern | Drake | 23 | 345 | Fire, Ice, Earth | - | - | 100% Wind | - | Moon Stone |
| Siren | Femme | 23 | 230 | Element | Force | - | - | - | Magry Stone |
| Kokkuri | Foul | 24 | 264 | Element, Force | - | - | - | - | Mail Breaker |
| Megaera | Raptor | 25 | 170 | Fire, Ice, Earth | - | - | 100% Wind | - | Longinus |
| Tokebi | Brute | 25 | 250 | Axe, Death, Curse | Element, Force | - | - | - | Paraladi Stone |
| Hanako | Spirit | 25 | 250 | Sword, Fire, Expel | - | Gun, Tech, Rush | - | - | Life Stone |
| Haokah | Yoma | 26 | 182 | Force | - | - | - | 50% Ice | Topaz |
| Malphas | Fallen | 26 | 260 | Physical | - | Magic | - | - | Silver Prayer Wheel |
| Teketeke | Grave | 26 | 260 | Element, Force | - | Gun | - | - | Dis-Stone |
| Pairika | Night | 27 | 189 | Physical | - | - | 100% Element, Force | - | Metal Card |
| Sarashina-hime | Jaki | 27 | 270 | Force | - | - | - | 50% Fire | Rattle Drink |
| Ocypete | Flight | 28 | 170 | Force | - | - | - | 50% Wind | Aquamarine |
| Carrie | Haunt | 28 | 280 | - | Magic | - | - | 200% Gun | Slick Drop |
| Principality | Divine | 29 | 290 | Physical | - | Element, Force | - | - | Magical Guard |
| Iwate | Femme | 29 | 290 | Element | - | - | - | 50% Nuclear | Silver Prayer Wheel |
| Genkuro | Beast | 29 | 232 | Whip, Gun | - | Tech, Rush | - | - | Spike Somai |
| Nozuchi | Snake | 30 | 420 | -- (Wind) | - | - | 100% Earth, Expel | - | Metal Card |
| Black Widow | Wilder | 31 | 255 | Whip, Gun | - | Tech, Rush | - | - | Physical Guard |
| Polisun | Fairy | 31 | 186 | Force | - | - | - | 50% Earth | Garnet |
| Duergar | Jirae | 32 | 320 | Wind, Blast | - | - | 100% Earth | - | Mamagnara Stone |
| Picollus | Brute | 32 | 320 | Death, Curse | Element, Force | - | - | - | Hexa Drive |
| Anatomy | Foul | 32 | 343 | Element, Force | - | - | - | - | Twin Bird |
| Demon | Order | Lvl | HP | Weak (Vulnerable) | Resist | Null | Absorb | Repel | Item |
| --- | --- | --- | --- | --- | --- | --- | --- | --- | --- |
| Anatomy | Foul | 32 | 343 | Element, Force | - | - | - | - | Twin Bird |
| Phunbaba | Drake | 33 | 495 | Fire, Wind, Earth | - | - | 100% Ice | - | Amethyst |
| Eligor | Fallen | 33 | 330 | Physical | - | Magic | - | - | Fuuma's Wakizashi |
| Hi no Enma | Night | 34 | 238 | Physical | - | - | 100% Element, Force | - | Revival Bead |
| Arachne | Femme | 34 | 340 | Element | - | - | - | 50% Gravity | Magryva Stone |
| Yaka | Haunt | 34 | 340 | - | Magic | - | - | 200% Gun | Dis-Sick |
| Kuchisake-Onna | Spirit | 34 | 340 | Sword, Fire, Expel | - | Gun, Tech, Rush | - | - | Dis-Para |
| Jinn | Yoma | 35 | 245 | Force | - | - | - | 50% Fire | Hiranya |
| Ocelot | Jaki | 35 | 350 | Force | - | - | - | 50% Fire | Blizzard Storm |
| Zap | Grave | 35 | 350 | Element, Force | - | Gun | - | - | Gian Kun Shi |
| Power | Divine | 36 | 360 | Physical | - | Element, Force | - | - | Turquoise |
| Tisiphone | Raptor | 36 | 220 | Fire, Ice, Earth | - | - | 100% Wind | - | Freidyne Stone |
| Orthrus | Beast | 37 | 277 | Whip, Gun | - | Tech, Rush | - | - | Megido Stone |
| Yaksini | Brute | 37 | 370 | Death, Curse | Element, Force | - | - | - | Bardiche |
| Naga | Snake | 38 | 532 | Element, Force | Physical | - | - | - | Onyx |
| Demon | Order | Lvl | HP | Weak (Vulnerable) | Resist | Null | Absorb | Repel | Item |
| --- | --- | --- | --- | --- | --- | --- | --- | --- | --- |
| Celaeno | Flight | 39 | 234 | Force | - | - | - | 50% Wind | Mabufula Stone |
| Sumizome | Fairy | 40 | 240 | Force | - | - | - | 50% Ice | Maragion Stone |
| Alastor | Fallen | 41 | 410 | Physical | - | Magic | - | - | Metal Card |
| Doppelgänger | Foul | 41 | 429 | Element, Force | - | - | Physical | - | Malachite |
| Zombie Painter | Grave | 41 | 410 | Element, Force | - | Gun | - | - | Adamantium Claw |
| Incubus | Night | 42 | 294 | Physical | - | - | Element, Force | - | Longinus |
| Rakshasa | Jaki | 42 | 420 | Force | - | - | - | Wind | Moonstone |
| Cupid | Yoma | 43 | 301 | Physical | Element, Force | - | - | - | Houtoufu |
| Scylla | Wilder | 43 | 354 | Whip, Gun | - | Tech, Rush | - | - | Topaz |
| Salome | Femme | 43 | 430 | Element | - | - | - | Electric | Mazanma Stone |
| Kiyohime | Drake | 43 | 645 | Ice, Wind, Earth | - | - | Fire | - | Answeller |
| Purski | Brute | 44 | 440 | Axe, Death, Curse | Element, Force | - | - | - | Oniguruma |
| Virtue | Divine | 44 | 440 | Physical | - | Element, Force | - | - | Bagh Nakh |
| Mizuchi | Snake | 44 | 616 | -- (Fire) | - | - | Ice, Expel | - | Aquamarine |
| Demon | Order | Level | HP | Weak (Vulnerable) | Resist | Void | Absorb | Reflect | Item |
| --- | --- | --- | --- | --- | --- | --- | --- | --- | --- |
| Kwancha | Jirae | 45 | 450 | Wind, Blast | - | - | 100% Earth | - | Agidyne Stone |
| Legion | Spirit | 45 | 450 | Sword, Fire, Expel | - | Gun, Tech, Rush | - | - | Kyubi no Muchi |
| Selket | Beast | 46 | 345 | Whip, Gun | - | Tech, Rush | - | - | Garnet |
| Aello | Flight | 47 | 292 | Force | - | - | - | 50% Wind | Magarula Stone |
| Druj | Haunt | 47 | 470 | - | Magic | - | - | 200% Gun | Physical Guard |
| Berith | Fallen | 48 | 480 | Ice | - | - | 100% Fire, Death | - | Doggerel Tablet |
| Titania | Fairy | 49 | 294 | Force | - | - | - | 50% Earth | Nihiru |
| Otohime | Snake | 50 | 700 | -- (Fire) | - | - | 100% Ice, Expel | - | Amethyst |
| Shadow | Foul | 50 | 550 | Element, Force | - | - | 100% Physical | - | Metal Card |
| Succubus | Night | 51 | 357 | Physical | - | - | 100% Element, Force | - | Opal |
| Tengu | Yoma | 51 | 357 | Force | - | - | - | 50% Wind | Garudyne Stone |
| Mushus | Drake | 51 | 765 | Element | - | - | - | 50% Elec | Lone Sword |
| Dakini | Femme | 51 | 510 | Element | - | - | - | 50% Nuclear | Balm of Life |
| Dominion | Divine | 52 | 520 | Spear, Death, Curse | - | - | - | 50% Element, Force | Enkeller |
| Catoblepas | Wilder | 52 | 429 | Whip, Gun | - | Tech, Rush | - | - | Tanzanite |
| Yaksa | Brute | 52 | 520 | Death, Curse | Element, Force | - | - | - | Holy Writ Tablet |
| Girimehkala | Jaki | 53 | 530 | Element, Force | - | - | - | 50% Physical | Silver Prayer Wheel |
| Alecto | Raptor | 53 | 400 | Fire, Ice, Earth | - | - | 100% Wind | - | Freidyne Stone |
| Ubelluris | Jirae | 54 | 540 | Wind, Blast | - | - | 100% Earth | - | Magnadyne Stone |
| Gdon | Beast | 54 | 405 | Whip, Gun | - | Tech, Rush | - | - | Revival Bead |
| Vetala | Haunt | 54 | 540 | - | Magic | - | - | 200% Gun | Pearl |
| Rukh | Flight | 55 | 330 | Gun | - | Wind | - | - | Bufudyne Stone |
| Barbatos | Fallen | 56 | 560 | Rush, Expel, Miracle | - | - | - | 50% Element, Force | Dis-Para |
| M.I.B | Meta | 56 | 492 | - | - | - | - | - | Metal Card |
| Oberon | Fairy | 57 | 342 | Force | - | - | - | 50% Fire | Grydyne Stone |
| Throne | Divine | 57 | 570 | Spear, Death, Curse | - | - | - | 50% Element, Force | Light Wave Tablet |
| Cromm Cruach | Drake | 58 | 870 | Element, Force | Physical | - | - | - | Ruby |
| Tlazolteotl | Night | 58 | 406 | Physical | - | - | 100% Element, Force | - | Petra Stone |
| Culebre | Snake | 59 | 826 | Element, Force | Physical | - | - | - | Hiranya |
| Rangda | Femme | 59 | 590 | Element | - | - | - | 50% Nuclear | Megidola Stone |
| Xiuhtecuhtli | Yoma | 60 | 420 | Force | - | - | - | 50% Fire | Metal Card |
| Hecatoncheires | Jaki | 61 | 610 | Force | Element | - | - | - | Emerald |
| Mangadhai | Wilder | 63 | 554 | Whip, Gun | - | Tech, Rush | - | - | Knuckle Barong |
| Jahi | Night | 64 | 448 | Physical | - | - | 100% Element, Force | - | Nerve Stone |
| Cherub | Divine | 64 | 640 | Spear, Death, Curse | - | - | - | 50% Element, Force | Bead |
| Ganesha | Yoma | 65 | 455 | Force | - | - | - | 50% Wind | Sapphire |
| Paimon | Fallen | 65 | 650 | Rush, Expel, Miracle | - | - | - | 50% Element, Force | Dark Wave Tablet |
| Hresvelgr | Raptor | 66 | 660 | Fire, Ice, Earth | - | - | 100% Wind | - | Mazionga Stone |
| Miyasudokoro | Haunt | 66 | 660 | - | Magic | - | - | 200% Gun | Kolkata Souvenir |
| Ouroboros | Snake | 67 | 938 | Element, Force | Physical | - | - | - | Tora Stomachband |
| Grimies | Foul | 68 | 700 | Element, Force | - | - | - | - | Ziodyne Stone |
| Fafnir | Drake | 70 | 999 | Element, Force | Physical | - | - | - | Olive Necklace |
| Adramelech | Fallen | 71 | 710 | Rush, Expel, Miracle | - | - | - | 50% Element, Force | Daily Meal |
| Fenrir | Wilder | 75 | 825 | Whip, Gun | - | Tech, Rush | - | - | Maxi Tempest |
| Alice | Fiend | 99 | 999 | - | All | - | - | - | Pagan King |