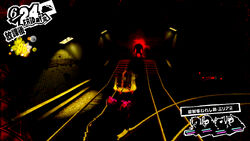 Deviations (ハプニング, Hapeningu)? are special areas in Mementos in Persona 5 Royal.
When the Phantom Thieves enter a different area of Mementos, there's a rare chance it will be a Deviation. They will be noticeably different in some way. There are a variety of different types of changes that can occur when entering a Deviation, and these can be either negative or positive in nature. Up to two types of changes can be in effect at the same time, however, it is impossible for both changes to be beneficial to the group; at least one change must be negative.
The possible changes are as follows:
The floor is pitch-black, hindering the grpup's vision, and the mini-map is also inaccessible
Only strong Shadows can spawn
A large amount of Shadows will spawn
The Reaper appears at the beginning
There is a pitfall
Disaster Shadows appear in large quantities
A large number of search objects are dropped
Many flowers will spawn
Many treasure chests will spawn
Simplified map layout
Leaving the Deviation area will cause it to reset and become a normal floor.
Community content is available under
CC-BY-SA
unless otherwise noted.