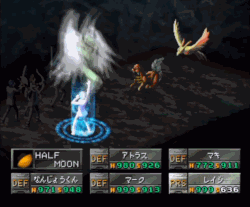 Dark Verdict, also known as Trial of Darkness (闇の審判, Yami no shinpan)?, is a Dark skill.
Effect
[
]
In Shin Megami Tensei NINE, Dark Verdict is a Death skill that has a chance of instantly killing all foes.
In Megami Ibunroku Persona, Dark Verdict deals heavy Curse damage to an area.
In the Persona 2 duology, Dark Verdict deals heavy Dark damage to all foes, and has a 50% chance of causing instant death.
Skillset
[
]
Demons
[
]
Shin Megami Tensei NINE

[

]
Megami Ibunroku Persona

[

]
Persona 2: Innocent Sin

[

]
Persona 2: Eternal Punishment

[

]
Enemies
[
]
Megami Ibunroku Persona

[

]
Persona 2: Innocent Sin

[

]
Persona 2: Eternal Punishment

[

]