Fire Emblem Warriors: Three Hopes - The Loop
Play Sound
This article would greatly benefit from the addition of one or more new images.
Please upload an image of Critical demonstration in other games and place it here. Once finished, this notice may be removed.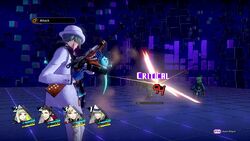 Criticals, or Critical hits (クリティカル*)? / (会心*)? are a recurring battle element in the series.
Overview
[
]
There is a small chance for certain types of attacks to land a Critical hit on the enemy. In that case, the damage of the attack will be multiplied by x1.5. In games that use the Press Turn system such as Shin Megami Tensei III: Nocturne, Critical hits will be able to grant multiple actions by using up half a turn icon (causing a normal turn icon to start flashing). In the Persona series the targeted enemy will be Downed, and the user will be able to access 1 More!.
Critical hits can only apply to skills that calculate the Strength stat for damage, rather than those that use the Physical affinity. Although those are generally the same, there are special cases where skills with other affinities are calculated with the Strength stat, instead of the usual Magic stat.
The Critical rate of the user's attacks are affected by their Luck stat. Their Luck also affects their chances of evading critical hits from an enemy attack.
If the user has the Passive skill Sharp Student, their odds of being struck with a Critical hit will be halved. In Persona 5 Royal, the passive skill Samurai Spirit boosts the user's evasion against Critical hits; it can only be accessed by equipping the Gauntlet, an accessory only available in the Shin Megami Tensei IV Costume DLC.
Skills Boosting Critical Rate
[
]
Scoring a critical hit may also grant the user of the skill the Smirk status.
Skills boosting Critical Rate
[
]
Skills boosting Critical Rate
[
]
Critical hits roughly land x1.5 the normal damage.
It is possible for the user's Critical rate to be maximized up to 100%, guaranteeing Critical hits.
By default, all attacks in the game follow the user's own Critical rate, with the only exception being that certain skills can have their rate increased.
A special set of skills, which use the regular magical affinities (such as Fire), but are Strength-based, have the chance to land Critical hits.
Critical hits cannot be landed if the attack is resisted or guarded against. The Magatsuhi skill Omagatoki: Critical makes all attacks, even magic attacks, score a critical hit. This effect allows critical hits to land even when a demon resists an element, though it still does not bypass guarding.
Some attacks, such as Carnage Fang, have their base power increased if they are a critical hit, in addition to the standard 50% bonus.
There are also attacks that have a guaranteed Critical rate, such as Acrobat Kick and Yabusame Shot, the second of which pierces, preventing resistances from nullifying the Critical hit. In the game's code, these attacks are assigned to have a 200% chance of landing a Critical, essentially preventing any stat differences from stopping the attack from landing a critical.[1]
Skills with increased Critical rate
[
]
Certain status ailments can make users more susceptible to Critical hits. Particularly, Panic, Distress, Freeze, Fear and Shock, with the latter guaranteeing a Critical hit.
Additionally, if a party member's condition is "Great", their Critical rate will increase.
Skills boosting Critical Rate
[
]
Note: This list only compiles attack skills with a Critical rate of 15% or more. For a full list of skills, see List of Persona 3 Skills.
Physical skills have an enhanced Critical rate in comparison to Persona 3, although this only applies to single-target attacks; multi-target skills all have low critical rate.
Skills boosting Critical Rate
[
]
Note: This list only compiles attack skills with a Critical rate of 25% or more. For a full list of skills, see List of Persona 4 Skills.
This topic is in need of research for the following reason:
* Can Critical hits override weaknesses? Try it on Decarabia. Also double-check if Criticals override resistances again just in case: Treasure Demons are useful for that.


This can be discussed on the article's talk page.
The attacks of the user's Critical rate cannot surpass 67%. Although Criticals and Technical multipliers cannot stack, Criticals directly override the latter.
Unlike in Persona 3 or Persona 4, bosses are immune to Critical hits with several exceptions.
If the game is set on Merciless difficulty, like with Technicals and weaknesses, the damage from Critical hits will be tripled in comparison to its damage in other difficulties, regardless of the source.
Skills boosting Critical Rate
[
]
In Persona 5 Strikers, the Critical rate of the user is affected by their Agility stat, and their Critical evasion is affected by their Luck stat. Additionally, the Sukukaja set of skills now affect the target's Critical rate.
The Passive skill Critical Boost increases the user's Critical rate.
References
[
]