Fire Emblem Warriors: Three Hopes - The Loop
Play Sound
This article would greatly benefit from the addition of one or more new images.
Please upload an image of combat in P5 and other games and place it here. Once finished, this notice may be removed.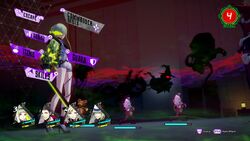 Combat (バトル, Batoru)? is a key mechanic and a major form of play in the Megami Tensei series, which involves battle between the player party and an enemy faction.
Profile
[
]
Generally, the combat is divided between player turn (ターン*)? and the enemy turn, which will generally switch between one-another. However, each faction can take multiple actions (行動*)? at once, generally 1 per party member, and in unique cases, give said party members additional actions.
The options available during battle differ between games, but common elements include using skills, items, guarding and escaping.
The system also takes stats, levels and equipment into consideration, such as armor and weapons. In the Megami Tensei series in particular, the units' weaknesses play an essential role in deciding the flow of battle.
The combat process ends when either the player or the enemy faction's HP is depleted. In most cases, the leader of the player party, the protagonist, is enough to cast a loss for the respective faction, and hence cast a Game Over.
In Persona 5, there's a chance for a 2nd or more waves of enemies to appear after the current encounter has been completed. Additionally, angering an enemy in negotiation and having them return to the enemy phase can reset the current encounter by re-summoning any killed Shadows.
Gallery
[
]