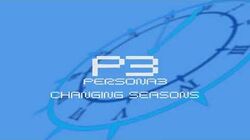 Changing Seasons is found on the Persona 3 Original Soundtrack and plays when it gets to the Second Term of Gekkoukan High School. The song is in French proverbs. It is also briefly heard during the school trip event in Persona 4.
A remix is on Burn My Dread -Reincarnation: Persona 3-.[1]
Comment vous dire...
La vérité finit toujours par se découvrir.
À chaque jour suffit sa peine,
Chacun trouve chaussure à son pied.
Le temps blanchit les têtes sans mûrir la raison.
(repeated *4)
How do I tell you...
The truth shall always be discovered.
Each day has enough grief,
Everyone finds bespoke shoes for their feet.
Time whitens heads without ripening reason.
(repeated *4)
How do I tell you...
The truth will out.
Sufficient unto the day is the evil thereof,
Every Jack has his Jill.
There is no fool like an old fool.
Community content is available under
CC-BY-SA
unless otherwise noted.