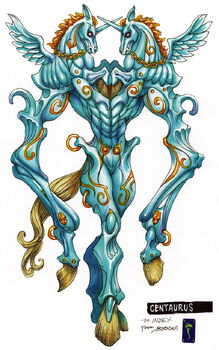 Centaur or Kentauros (ケンタウロス, Kentaurosu)? is a demon in the series.
Part human and part horse, they were the children of either Centaurus and the Magnesian Mares or Ixion and Nephele. They were wild in nature and untamed, excelled at archery and were fond of grapes and wine. They do not take well to alcohol, becoming drunk easily. In this state they become very aggressive and would often attack humans and each other.
Centaurs were said to have inhabited the region of Magnesia and Mount Pelion in Thessaly, the Foloi oak forest in Elis, and the Malean peninsula in southern Laconia. They were believed to either be driven off or wiped out during their war with the Lapiths.
Appearances
Edit
Shin Megami Tensei IVEdit
A lone Centaur will be recruited during the tutorial on how to Scout demons during Flynn's training to become a Samurai. Centaur will continue to appear throughout the 1st, 2nd and 3rd stratums of Naraku. It can teach Flynn the Bufu and Needle Shot skills through its Demon Whisper. Centaur is one of the demons needed to create Tam Lin through special fusion.
Shin Megami Tensei IV ApocalypseEdit
Centaur is the first demon that Nanashi receives after being revived by Dagda.
DemiKids Light & DarkEdit
Megami Tensei IIEdit
| Stamina | Intelligence | Attack | Agility | Luck | Defense |
| --- | --- | --- | --- | --- | --- |
| 13 | 7 | 11 | 8 | 7 | 7 |
Kyūyaku Megami TenseiEdit
Megami Tensei IIEdit
| Race | Level | HP | MP | VIT | INT | STR | SPD | LUC | DEF |
| --- | --- | --- | --- | --- | --- | --- | --- | --- | --- |
| Yoma | 22 | 146 | 29 | 13 | 7 | 11 | 8 | 7 | 7 |
List of Spells

Skill
Cost
Effect
Zanma
4 MP
Medium Force damage (1-2 enemies)
Shin Megami Tensei IVEdit
Race

Level

HP

MP

| | | |
| --- | --- | --- |
| Strength | 8 | |
| Dexterity | 8 | |
| Magic | 7 | |
| Agility | 7 | |
| Luck | 7 | |

Yoma
1
104
19
| Phys | Gun | Fire | Ice | Elec | Force | Light | Dark |
| --- | --- | --- | --- | --- | --- | --- | --- |
| - | Resist | - | Null | Weak | - | - | - |
Ailment Resistance

Weak

: Poison
| | |
| --- | --- |
| Normal Attack | Phys x1, 1 enemy |
List of Skills

Skill
Cost
Effect
Level
Bufu
5 MP
Weak ice damage to one foe.
Innate
Needle Shot
4 MP
Weak gun damage to one foe.
2
Shin Megami Tensei IV ApocalypseEdit
Last Bible IIIEdit
| Level | HP | MP | ATK | DEF | STR | INT | END | SPD | LUC |
| --- | --- | --- | --- | --- | --- | --- | --- | --- | --- |
| 17 | 125 | 84 | 49 | 26 | 13 | 10 | 11 | 12 | 10 |
Demikids: Light & DarkEdit
| Class | Element | Type | Level | HP | MP | Exp |
| --- | --- | --- | --- | --- | --- | --- |
| General | Earth | Beast | 6 | 76 | 27 | |

| ATK | DEF | MGC | RES | SPD | LCK |
| --- | --- | --- | --- | --- | --- |
| 11 | 8 | 11 | 7 | 10 | 12 |
List of Skills

Skill
Element
Cost
Effect
Petra
Earth
5 MP
Small dmg. 1 Foe
Double Hit
Dark
10 HP
Hit x2. 1 Foe
Slumber
Earth
6 MP
Sleep. 1 Foe
Reflect
Dark
25 HP
Reflect Power Damage
Paralyze
Dark
20 HP
Medium dmg +Paralyze. 1 Foe
Petraburst
Earth
10 MP
Medium dmg. 1 Foe
Devil Children Fire/Ice BookEdit
| Class | Type | Race | Level | HP | MP | Exp |
| --- | --- | --- | --- | --- | --- | --- |
| General | Earth | Beast | 6 | 76 | 27 | |
| Attack | Guard | Magic | M Guard | Speed | Luck |
| --- | --- | --- | --- | --- | --- |
| 11 | 8 | 11 | 7 | 10 | 12 |