Raise a Floppa - The Loop
Play Sound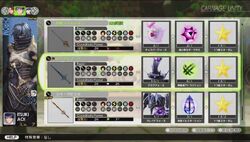 Carnage Unity (カルネージ・ユニティ, Karunēji Yuniti)? is a mechanic in Tokyo Mirage Sessions ♯FE, facilitated by Tiki in the Bloom Palace.
Profile
Carnage Unity is the process of taking the Performa materials dropped from enemy Mirages and turning those into more powerful Carnages, serving as better weapon forms for the party members' Mirage partners.
The stronger Carnages can also have influence over a Mirage's elemental affinity chart, more often than not giving out additional weaknesses while at the same time switching around resistances or neutralities, eventually adding nullifications, repels, and drains. Learned Passive Skills that influence defensive affinities such as Resist Force, Null Ice, Repel Elec, and Absorb Fire do not influence how a Carnage's affinity chart is displayed in the Carnage Unity menu.
Unlocking the Class Change service following the conclusion of Chapter 3: The Next Generation and using this service unlocks new (typically) 3 Carnages that are tied to that class. Do note that once you change a Mirage into either promoted class, the Carnage Unity recipes stay unlocked, so Chrom could be promoted to Great Lord then reclassed into Conqueror to unlock all 6 of his Promotion-exclusive Carnages.
Starting with Chapter 4: The Audition, Carnage Unity gains the ability to strengthen Carnages that have completed their skill inheritance, granting them an enhanced ATK, a chance to relearn any of that Carnage's four forgotten or passed over skills, and to learn a unlocked fifth skill that appears as part of the first strengthening. When strengthening a Carnage, sometimes a Carnage's Attack can be enhanced higher than it normally would be, gaining 1 or 2 additional ATK, at the cost of consuming even more Performa, usually up to 3 extra Star Prestiges, depending on how strong the Carnage innately is. This is optional, and normal Carnage Unity can be pursued if so chosen to.
Starting a New Game Plus file unlocks the ultimate Carnage of a cast member. To craft them, however, one needs the Performa War Testament, which are only won through the Legendary Arena circuit in Illusory Urahara, which is also unlocked upon starting New Game+.
List of Carnage Unity Recipes
Carnage Name
Performa Needed for Crafting
Passive Effects
Base Attack
Falchion
1 Caspar Force

1 Crawling Darkness

One 1-Star Prestige
None
16 ATK
Iron Sword
1 Blob Force

1 Unholy Temptation

One 1-Star Prestige
None
26 ATK
Epee
1 Myrmidon Force

1 Deep Sea Glow

2 1-Star Prestiges
None
37 ATK
Rapier
1 Man o' War Force

1 Onyx Blade

2 1-Star Prestiges
Raises Evade against Physical attacks.
38 ATK
Deathbringer
1 Nickelwise Force

1 Cursed Doll

One 2-Star Prestige
None
51 ATK
Claiomh Solais
1 Myrmidon Force R.

1 Glimmering Wisp

3 2-Star Prestiges
Raises Critical rate
64 ATK
Noble Rapier
1 Barbarian Force

1 Duelist Blade

3 2-Star Prestiges
None
65 ATK
Answerer
1 Abyss Force

1 Cultist's Zeal

One 3-Star Prestige
None
71 ATK
Regal Sword
1 Barbarian Force R.

1 Bowler Hat

Three 3-Star Prestiges
None
82 ATK
Mill Cutter
1 Inferno Force

1 Indomitable Armor

Three 3-Star Prestiges
Restores 2 EP every turn
83 ATK
Matador
1 Inferno Force

1 Macca Converter

Three 3-Star Prestiges
Raises Hit & Evade at the start of battle. Lasts three turns.
87 ATK
Mo Ye
1 Yomotsu Force

1 Igniting Hellfire

One 4-Star Prestige
None
89 ATK
Durandal
1 Knight Force

1 Red Brigandine

3 4-Star Prestige
Raise damage dealt with Elec attacks.
99 ATK
Florete
1

Bloodwing

Force

1 Regal Mane

3 4-Star Prestige
None

(Promote/Reclass into Great Lord to unlock)
101 ATK
Balmung
1 Knight Force R.

1 Hellish Doll

3 4-Star Prestige
None

(Promote/Reclass into Conqueror to unlock)
102 ATK
Mercurius
1 Cerberus Force

1 Vampiric Beak

3 5-Star Prestiges
None
107 ATK
Gran Rapier
1 Hierophant Force

1 Alabaster Quill

3 5-Star Prestiges
Raises Evade versus Lance attacks.
112 ATK
Sol Katti
1

Bloodscale

Force

1 Warrior's Horn

3 5-Star Prestiges
None

(Promote/Reclass into Great Lord to unlock)
113 ATK
Tyrfing
1 Carrietta Force

1 Grisly Piercing

3 5-Star Prestiges
None

(Promote/Reclass into Conqueror to unlock)
114 ATK
Dainsleif
1 S. Master Force

1 Kaiju Hide

3 6-Star Prestiges
None
126 ATK
Exalted Falchion
1

Whitescale

Force

1 Argent Habit

3 6-Star Prestiges
None
135 ATK
Mystletainn
1

Bloodscale

Force

1 Warrior's Horn

3 5-Star Prestiges
None

(Promote/Reclass into Great Lord to unlock)
136 ATK
Laevateinn
1 Carrietta Force

1 Grisly Piercing

3 5-Star Prestiges
None

(Promote/Reclass into Conqueror to unlock)
137 ATK
Ama-no-Mitsurugi
1 General Force

1 Interstellar Sefirot

5 6-Star Prestiges
Low Sealing odds with Physical attacks.
146 ATK
True Falchion
1 Caspar Force

1 War Testament

One 1-Star Prestige
SP Gauge fills faster.

(New Game+ exclusive)
150 ATK
Carnage Name
Performa Needed for Crafting
Passive Effects
Base Attack
Iron Feather
1 Caspar Force

1 Crawling Darkness

One 1-Star Prestige
None
20 ATK
Wicked Lance
1 Mage Force

1 Bloodred Nose

2 1-Star Prestiges
None
28 ATK
Steel Feather
1 Samantha Force

1 Green Lichen

2 1-Star Prestiges
Blocks Poison.
39 ATK
Radiant Lance
1 Troll Force

1 Fiery Spirit

2 1-Star Prestiges
None
40 ATK
Silver Feather
1 Apparition Force

1 Nightmare Hoof

3 2-Star Prestiges
None
54 ATK
Killer Lance
1 Archer Force

1 Fever Chain Cell

3 2-Star Prestiges
Raises Critical rate.
65 ATK
Blood Lance
1 Worm Force

1 Clouded Eye

3 2-Star Prestiges
None
66 ATK
Obelisk
1 Cleric Force

1 Macca Converter

5 2-Star Prestiges
Reduces damage from Axe attacks.
71 ATK
Hayakaze
1 Archer Force

1 Inky Feather

Three 3-Star Prestiges
None
73 ATK
Stingray
1 Leviathan Force

1 Barbaric Furs

Three 3-Star Prestiges
Low Poisoning odds with Physical attacks.
85 ATK
Sonic Feather
1

Blackwing

Force

1 Black Scale

Three 3-Star Prestiges
None
86 ATK
Alicorn
1

Blackwing

Force

1 Prophet's Riddle

3 4-Star Prestiges
None
90 ATK
Hayanie
1 Hirudinean Force

1 Haunted Doll

3 4-Star Prestiges
Raise damage dealt with Force attacks.
102 ATK
Winged Lance
1

Blackwing

Force

1 Inky Feather

3 4-Star Prestiges
None

(Promote/Reclass into Falcon Knight to unlock)
103 ATK
Kaishu Yari
Tathlum
Karura
Ethereal Feather
Brave Feather
Dragoon Lance
Carnage Name
Performa Needed for Crafting
Passive Effects
Base Attack
Iron Spear
1 Nickelwise Force

1 Outlaw's Leather

One 1-Star Prestige
None
17 ATK
Spear
1 Cavalier Force

1 Outlaw's Leather

2 1-Star Prestiges
Raises Critical rate.
40/41 ATK
Wind Spear
1 Barbarian Force

1 Nightmare Hoof

2 1-Star Prestiges
None
40/41 ATK
Poison Spear
1 Bacillus Force

1 Spiral Shell

3 2-Star Prestiges
Low Poisoning odds with Physical attacks.
53 ATK
Silver Spear
1 Cavalier Force

1 Dapper Skull

3 2-Star Prestiges
None
64 ATK
Hawthorne Spear
1 Skellington Force

1 Gloaming Robe

3 2-Star Prestiges
None
64 ATK
Yomotsu Hirasaka
1 Abyss Force

1 Macca Converter

5 2-Star Prestiges
Greatly increases Critical rate but lowers Hit rate.
70 ATK
Ningen Mukotsu
1 Inferno Force

1 Dapper Skull

Three 3-Star Prestiges
None
71 ATK
Eligor
1 Yomotsu Force

1 Red Enchantment

Three 3-Star Prestiges
None
84 ATK
Brave Spear
1 Blackscale Force

1 Charybdis Scale

Three 3-Star Prestiges
Slightly restores HP every turn.
85 ATK
Nazr
1 Blackscale Force

1 Vampiric Beak

3 4-Star Prestiges
None
90 ATK
Sleipnir
1 Paladin Force

1 Haunted Doll

3 4-Star Prestiges
Low Confusion odds with Physical attacks.
100 ATK
Longinus
1 Paladin Force

1 Fire Carrier

3 4-Star Prestiges
None

(Promote/Reclass into Paladin to unlock)
101 ATK
Butcherer
1 Regan Force

1 Red Bowstring

3 4-Star Prestiges
None

(Promote/Reclass into Dark Knight to unlock)
101 ATK
Iwaotoshi
1

Hedorah

Force

1 Grisly Piercing

3 5-Star Prestiges
None
108 ATK
Trishula
1 Carrietta Force

1 Carmine Plume

3 5-Star Prestiges
Raises Critical rate.
115 ATK
Ote-gine
1 Giant Force

1 Hellhound's Howl

3 5-Star Prestiges
None

(Promote/Reclass into Paladin to unlock)
116 ATK
Gáe Bolg
1 Warrior Force

1 Unruly Ectoplasm

3 5-Star Prestiges
None

(Promote/Reclass into Dark Knight to unlock)
117 ATK
Burgundy
1 Carrietta Force

1 Carmine Plume

3 5-Star Prestiges
Raises Offense at start of combat. Lasts for three turns.
124 ATK
Huo Jian Qiang
1 Sniper Force

1 Scarlet Scale

3 6-Star Prestiges
None
127 ATK
Ame-no-Ohabari
1 Raijin Force

1 Gegenes Magma

3 6-Star Prestiges
Raises damage dealt with lance attacks.
136 ATK
Lance of Light
1

Whitescale

Force

1 Raijin's Gleam

3 6-Star Prestiges
None

(Promote/Reclass into Paladin to unlock)
137 ATK
Ruin
1 Fujin Force

1 Parasite's Sucker

3 6-Star Prestiges
None

(Promote/Reclass into Dark Knight to unlock)
138 ATK
Brionac
1 Nickelwise Force

1 War Testament

One 1-Star Prestige
SP Gauge fills faster

(New Game+ exclusive)
151 ATK
Carnage Name
Performa Needed for Crafting
Passive Effects
Base Attack
Iron Rod
1 Shaman Force

1 Cursed Doll

One 1-Star Prestige
None
49 ATK
Spell Rod
1 Shaman Force

1 Cultist's Zeal

3 2-Star Prestiges
None
62/63 ATK
Silver Rod
1 Cleric Force

1 Hadal Zone

3 2-Star Prestiges
Blocks Sleep.
62/63 ATK
Lilith Rod
1 Abyss Force

1 Igniting Hellfire

Three 3-Star Prestiges
None
69 ATK
Vajra
1

Mage

Force R.

1 Hellish Doll

Three 3-Star Prestiges
Blocks Confuse.
82 ATK
Yggdrasil Rod
1 Knight Force

1 Inky Feather

Three 3-Star Prestiges
None
83 ATK
Lorelei
1 Leviathan Force

1 Macca Converter

5 3-Star Prestiges
Raises Evade against Magic attacks.
86 ATK
Death Rod
1 Shaman Force R.

1 Red Enchantment

3 4-Star Prestiges
None
84 ATK
Heidhrun
1 Barbarian Force R.

1 Carmine Plume

3 4-Star Prestiges
Restores 2 EP every turn.
98 ATK
Demon's Rod
1 Regan Force

1 Ancient Robe

3 4-Star Prestiges
None

(Promote/Reclass into Sorcerer to unlock)
99 ATK
Caduceus
1

Hedorah

Force

1 Red Bowstring

3 4-Star Prestiges
None

(Promote/Reclass into Sage to unlock)
100 ATK
Exodus
1 Shaman Force R.

1 Interstellar Sefirot

5 4-Star Prestiges
Raises Hit & Evade at start of combat. Lasts for three turns.
105 ATK
Yagrush
1 Poltergeist Force

1 Regal Mane

3 5-Star Prestiges
None
106 ATK
Sha Na Ra
1 Hierophant Force

1 Carmine Plume

3 4-Star Prestiges
Raises damage dealt by ice attacks.
112 ATK
Thyrsus
1 Cleric Force R.

1 Warrior's Horn

3 5-Star Prestiges
None

(Promote/Reclass into Sorcerer to unlock)
113 ATK
Aymur
1 Poltergeist Force

1 Colossus Fist

3 5-Star Prestiges
None

(Promote/Reclass into Sage to unlock)
114 ATK
Astaroth Rod
1 Bishop Force

1 Alabaster Quill

3 6-Star Prestiges
None
124 ATK
Indra's Thunder
1 Raijin Force

1 Hallowed Robe

3 6-Star Prestiges
Reduces damage from magic attacks.
134 ATK
Mjolnir
1 General Force

1 Raijin's Gleam

3 6-Star Prestiges
None

(Promote/Reclass into Sorcerer to unlock)
135 ATK
Asclepius
1 Parasite Force

1 Arcane Wisdom

3 6-Star Prestiges
None

(Promote/Reclass into Sage to unlock)
136 ATK
Sharur
1 Shaman Force

1 War Testament

One 1-Star Prestige
SP Gauge fills faster

(New Game+ exclusive)
150 ATK
Carnage Name
Performa Needed for Crafting
Passive Effects
Base Attack
Longbow
1 Archer Force

1 Gloaming Robe

One 2-Star Prestiges
None
71 ATK
Poison Arc
1

Mage

Force R.

1 Hellish Doll

Three 3-Star Prestiges
Low Poisoning odds with Physical attacks.
78 ATK
Killer Bow
1 Phantom Force

1 Black Scale

Three 3-Star Prestiges
Raises Critical rate.
81 ATK
Ushimitsu Yorimasa
1 Barbarian Force R.

1 Macca Converter

3 4-Star Prestiges
Low Sleep odds with Physical attacks.
89 ATK
Azusa Yumi
1 Cleric Force R.

1 Bowler Hat

3 4-Star Prestiges
None.
90 ATK
Kamadeva Bow
1

Hedorah

Force

1 Prophet's Riddle

3 4-Star Prestiges
Low Charm odds with Physical attacks.
101 ATK
Double Bow
1 Archer Force R.

1 Carmine Plume

3 4-Star Prestiges
None

(Promote/Reclass into Sniper to unlock)
99 ATK
Gandiva
1 Archer Force R.

1 Fire Carrier

3 4-Star Prestiges
None

(Promote/Reclass into Assassin to unlock)
100 ATK
Kunikuzushi
1 Hirudinean Force

1 Scarlet Scale

3 5-Star Prestiges
None
108 ATK
Blessed Bow
1 Whitewing Force

1 Red Bowstring

3 5-Star Prestiges
Slightly restores HP every turn.
114 ATK
Parthia
1

Bloodscale

Force

1 Warrior's Horn

3 5-Star Prestiges
None

(Promote/Reclass into Sniper to unlock)
115 ATK
Rienfleche
1 Giant Force

1 Unruly Ectoplasm

3 5-Star Prestiges
None

(Promote/Reclass into Assassin to unlock)
116 ATK
Apocalypse
1 Hierophant Force

1 Interstellar Sefirot

Five 5-Star Prestiges
Low Stunning odds with Physical attacks.
125 ATK
Nidhogg
1 Raijin Force

1 Kaiju Hide

3 6-Star Prestiges
None
126 ATK
Rainbow Bow
1 Druid Force

1 Violet Crest

3 6-Star Prestiges
Greatly increased Critical rate.
136 ATK
Yewfelle
1 Sniper Force

1 Hallowed Robe

3 6-Star Prestiges
None

(Promote/Reclass into Sniper to unlock)
137 ATK
Ame-no-Kagoyumi
1 Druid Force

1 Fujin's Liberty

3 6-Star Prestiges
None

(Promote/Reclass into Assassin to unlock)
138 ATK
Pinaka
1 Archer Force

1 War Testament

1 2-Star Prestige
SP Gauge fills faster

(New Game+ exclusive)
153 ATK
Carnage Name
Performa Needed for Crafting
Passive Effects
Base Attack
Battle Axe
1 Knight Force

1 Charybdis Scale

1 3-Star Prestiges
None
89 ATK
Silver Axe
1 Archer Force R.

1 Red Brigandine

3 4-Star Prestiges
None
91 ATK
Halberd
1 Knight Force R.

1 Bowler Hat

3 4-Star Prestiges
None

(Promote/Reclass into General to unlock)
101 ATK
Killer Axe
1 Knight Force R.

1 Barbaric Furs

3 4-Star Prestiges
Raises Critical rate.

(Promote/Reclass into Berserker to unlock)
102 ATK
Plasma Axe
1

Hedorah

Force

1 Macca Converter

5 4-Star Prestiges
Low Confusion odds with Physical attacks.
107 ATK
Hauteclere
1 Paladin Force

1 Pale Edge

3 5-Star Prestiges
None
109 ATK
Bolt Axe
1 Poltergeist Force

1 Horror-Show Doll

3 5-Star Prestiges
Low Charming odds with Physical attacks.
116 ATK
Urvan
1 Warrior Force

1 Hellhound's Howl

3 5-Star Prestiges
None

(Promote/Reclass into General to unlock)
117 ATK
Devil Axe
1 Warrior Force

1 Grisly Piercing

3 5-Star Prestiges
None

(Promote/Reclass into Berserker to unlock)
118 ATK
Basilikos
1 Slattern Force

1 Fujin's Liberty

3 6-Star Prestiges
None
125 ATK
Galatine
1 General Force

1 Arcane Wisdom

3 6-Star Prestiges
Reduces damage taken from Physical attacks.
137 ATK
Wunderland
1 Bishop Force

1 Pale Recurve

3 6-Star Prestiges
None

(Promote/Reclass into General to unlock)
138 ATK
Parashurama Axe
1 Warrior Force

1 Grisly Piercing

3 6-Star Prestiges
None

(Promote/Reclass into Berserker to unlock)
139 ATK
Girimekhala
1 Slattern Force

1 Interstellar Sefirot

5 6-Star Prestiges
Greatly increases Critical rate but lowers Hit rate.
146 ATK
Helswath
1 Knight Force

1 War Testament

1 3-Star Prestige
SP Gauge fills faster.

(New Game+ exclusive)
154 ATK
Affinity Changes & Skill Inheritance set
Carnage Name
Skill Set
Enhancement Bonus Skill
Affinity
Falchion
Cleave (5 EP)
Lance-Slash
Rakukaja (10 EP)
Str Boost
Quick Step
-
Wk
Rs
-
Wk
-
Rs
-
-
-
Iron Sword
Zio (6 EP)
Dia (10 EP)
Wind-Thunder
Surefire
Media (22 EP)
-
Wk
Rs
-
Wk
-
Rs
-
-
-
Epee
Cleave (5 EP)
Fire-Slash
Wind-Thunder
Mag Boost
Elec Expertise
-
Wk
Rs
-
Wk
-
Rs
-
-
-
Rapier
Rakunda (10 EP)


Horseslayer

(8 EP)
Lance-Slash
Skl Boost
Sword Expertise
-
Wk
Rs
-
Wk
-
-
Rs
-
-
Deathbringer
Ice-Slash
Dia (10 EP)
Def Boost
Mazio (14 EP)
Wind-Slash
-
Wk
Rs
-
Wk
-
Rs
-
-
-
Claiomh Solias
Fang Breaker (9 EP)
Tarukaja (10 EP)
Null Sleep
Fatal Sword (9 EP)
Yasha Soul
-
Wk
Rs
-
Wk
Rs
-
-
-
Rs
Noble Rapier

Horseslayer

(8 EP)
Res Boost
Fire-Slash
Zionga (10 EP)
Mana Aid
-
Wk
Rs
-
Wk
Wk
Nu
-
Rs
Wk
Answerer
Bow-Thunder
Fatal Sword (9 EP)


Wyrmslayer


Yasha Soul
Lance-Thunder
-
Wk
Rs
-
Wk
-
Rs
-
-
-
Regal Sword
Rakukaja (10 EP)


Armorslayer

(8 EP)
Fang Breaker (9 EP)
Sword Expertise
Charge
-
Wk
Rs
-
Wk
-
-
-
Rs
Rs
Mill Cutter
Mazio (14 EP)
Zionga (10 EP)
Bow-Thunder (9 EP)
Elec Expertise
Ziodyne (17 EP)
-
Wk
Rs
-
Wk
-
Nu
Wk
-
Rs
Matador
20px Trafuri (10 EP)
Sukukaja (10 EP)


Dual Dispatch

(10 EP)
Quick Step

Espada

(12 EP)
-
Wk
Rs
-
-
-
-
-
Wk
Nu
Mo Ye
Axe-Thunder (10 EP)
Tarukaja (10 EP)
Heat Wave (20 EP)
Diarama (18 EP)
Early Bird
-
Wk
Rs
-
Wk
-
Rs
-
-
-
Durandal
Axe-Thunder (10 EP)
Life Aid
Resist Ice
Ziodyne (17 EP)
Null Elec
-
Wk
Rs
-
Wk
Wk
Nu
-
-
-
Florete
Diarama (18 EP)
Wind-Elthunder
Healing Expertise
Concentrate (15 EP)
Mediarama (40 EP)
-
Wk
Rs
-
Wk
-
Dr
-
-
-
Balmung
Heat Wave (20 EP)


Focused Blade


Lance-Slash EX
Charge (15 EP)
Pierce
-
Wk
Nu
-
Wk
-
Rs
-
-
Rs
Mercurius
Dekunda (10 EP)
Focused Blade
Ziodyne (17 EP)
Null Confuse
Concentrate (15 EP)
-
Wk
Rs
-
Wk
-
Nu
-
-
-
Gran Rapier
Rakunda (10 EP)
Espada
Life Gain
Pierce
Dodge Lance
-
Wk
Rs
-
Wk
-
Rs
-
Rs
-
Sol Katti
Elec Expertise
Bow-Elthunder
Mag Amplify
Maziodyne (36 EP)
Aether
-
Wk
Rs
-
Wk
-
Dr
-
-
-
Tyrfing
Str Amplify


Wyrmicide

(12 EP)
Fire-Slash EX


Thunder Strike

(14 EP)
Tarukaja Bootup
-
Wk
Nu
-
Wk
-
Rs
-
-
Rs
Dainsleif
Ziodyne (17 EP)
Concentrate (15 EP)
Dodge Lance
Victory Cry
Dodge Lance
-
Wk
Rs
-
Wk
-
Nu
-
-
-
Exalted Falchion
Dekunda (10 EP)
Charge (15 EP)
Wyrmicide
Null Seal
Fighting Spirit
-
Wk
Rs
-
Wk
-
Rs
-
Rs
Rs
Mystletainn
Maziodyne (36 EP)
Axe-Elthunder
Diarahan (32 EP)
Aether
Absorb Elec
-
Wk
Rs
-
Wk
-
Dr
-
-
-
Laevateinn
Focused Blade (14 EP)


Diamondsplitter

(12 EP)
Ice-Slash EX
Martyr Expertise
Shura Soul
-
Wk
Nu
-
Wk
-
Rs
-
-
Rs
Ama-no-Mitsurugi
Parry Lance
Focused Blade (14 EP)
Dekaja (10 EP)
Practice
Shura Soul
-
Wk
Rs
-
-
-
-
-
Nu
-
True Falchion
Maziodyne (36 EP)
Focused Blade (14 EP)


Thoron

(28 EP)
Elec Expertise EX
Shura Soul
-
Wk
Rs
-
Wk
Rs
Rp
Rs
-
-
Carnage Name
Skill Set
Enhancement Bonus Skill
Affinity
Killing Edge

Flame Strike

(9 EP)
Lance-Slash
Sword-Slash


Focused Blade

(14 EP)
Bow-Slash
-
Wk
Rs
-
Rs
-
Wk
Rs
-
Wk
Silver Sword
Counter (35 EP)
Tarukaja (10 EP)
Sword Expertise
Null Confuse
Dodge Lance
-
Wk
Rs
-
Rs
-
Wk
Rs
-
Wk
Yatsuka Sword
Sukukaja (10 EP)
Ice-Blaze
Fire Expertise
Watchfulness
Lance-Blaze
-
Wk
Rs
-
Nu
-
Wk
-
-
Wk
Wo Dao
Elec-Slash
Gust Strike (9 EP)
Yasha Soul
Quick Step
Heat Wave (20 EP)
-
Wk
Nu
-
-
-
Wk
Nu
-
Wk
Amatsu
Dekunda (10 EP)
Ice-Blaze EX
Spd Amplify
Lance-Blaze EX
Sol
-
Wk
Rs
-
Nu
-
Wk
Rs
-
Wk
Masamune

Diamondsplitter

(12 EP)
Lance-Slash EX
Str Amplify
Ice-Slash EX
Sword Mastery EX
-
Wk
Nu
-
Rs
-
Wk
Rs
-
Wk
Ragnell
Counter (35 EP)
Heat Wave (20 EP)
Inferno Strike (14 EP)
Dodge Lance
Elec-Blaze
-
Wk
Rs
-
Nu
-
Wk
-
-
Wk
Murasame
Frost Strike (9 EP)
Ice-Slash
Taunt
Pierce
Life Leech
-
Wk
Rs
-
Wk
Nu
-
-
-
Rs
Masakado's Sword
Charge (15 EP)
Victory Cry


Wallbreaker


Null Fire
Feather Step
-
Wk
Rs
-
Rs
-
Wk
Rs
-
Wk
Hi-no-Kagutsuchi
Inferno Strike (14 EP)
Espada (12 EP)
Sword-Slash EX
Sword Expertise EX
Absorb Fire
-
Wk
Nu
-
Dr
-
Wk
-
-
Wk
Ame-no-Murakumo

Gale Strike

(14 EP)
Dekaja (10 EP)
Elec-Slash EX
Sol
Shura Soul
-
Wk
Rs
-
Rs
-
Wk
Dr
-
Wk
Kusanagi-no-Tsurugi
Lance Parry
Inferno Strike (14 EP)


Freezing Strike


Practice
Early Bird
-
Wk
Rs
-
Nu
Nu
Wk
Wk
-
-
Futsu-no-Mitama
Focused Blade (14 EP)
Charge (15 EP)
Feather Step


Counter EX

Repel Fire
-
Wk
Nu
-
Nu
-
Wk
Nu
-
-