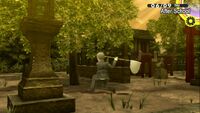 Bug Catching is an activity in Persona 4 Golden.
Appearances
Profile
Persona 4 Golden
In order to unlock this activity, the protagonist must first talk to the boy found at the Tatsuhime Shrine in who lost a bug net. The protagonist must go to Tatsuhime Shrine at night (Courage rank 2 required) after talking to the boy and talk to the woman in white. Once done, talk to the boy the next day and you will obtain the bug net.
Once the protagonist gets the bug net, he is able spend time catchings bugs, mainly inside Tatsuhime Shrine in the Central Shopping District. The protagonist can use this bugs when fishing and by completing requests. The protagonist can catch bugs at both daytime and night. When a "!" appears, it will result in a "perfect timing", and the protagonist will recieve more bugs. The protagonist can also increase the number of bug catch by reading the book "Catching Bugs and World Class Bugs".
During winter season, the protagonist won't be able to catch bugs at the Shrine, instead the protagonist can catch bugs outside the Dojima Residence where the protagonist would usually be able to use the garden. Genji Beetles can be found here.
List of Bugs
Tatsuhime Shrine
| Item | Description |
| --- | --- |
| Tatsuhime Ladybug | When used as bait at the river, can attract Genji Ayu or Amber Seema. |
| Yaso Locust | When used as bait at the river, can attract Amber Seema or Inaba Trout. |
| Meiou Cricket | When used as bait at the river, can attract Inaba Trout or Huge Fish. |
| Inaba Jewel Beetle | When used as bait at the river, can attract lots of Huge Fish. |
| Daimyo Grasshopper | When used as bait at the sea, can attract Hachiro Octopus. |
| Heike Stag Beetle | When used as bait at the sea, can attract Hachiro Octopus or Meguro Tuna. |
| Genji Beetle | When used as bait at the sea, can attract lots of Meguro Tuna. |
Dojima Residence
| Item | Description |
| --- | --- |
| Yaso Locust | When used as bait at the river, can attract Amber Seema or Inaba Trout. |
| Meiou Cricket | When used as bait at the river, can attract Inaba Trout or Huge Fish. |
| Inaba Jewel Beetle | When used as bait at the river, can attract lots of Huge Fish. |
| Daimyo Grasshopper | When used as bait at the sea, can attract Hachiro Octopus. |