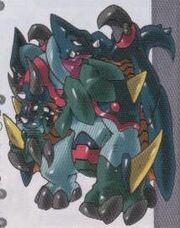 Blazron, known as Blaze Hei Long (ブレイズヘイロン?) in Japan, is a demon in the series.
Appearances
Edit
DemiKids Light/Dark VersionEdit
"A dark dragon aware that its destiny is to battle evil, armed with its new powers."
Gale evolves into this form if you have him relax as Giga Rox, after retrieving the testament from the Dark Temple and defeated Bifronz. Can perform the light combo Flash Wave with Lich, which deals damage and has a chance of paralyzing foes for 25 MP. He can also perform the light combo Ray Field with Whiskers, which deals damage on all foes and has a chance of fainting them for 25 MP.
Devil Children Messiah RiserEdit
Gale involves into Blaze Hei Long if the first choice is picked after defeating Urd at the Light Temple.
DemiKids Light/Dark VersionEdit
| Class | Element | Type | Exp | Level | HP | MP |
| --- | --- | --- | --- | --- | --- | --- |
| King | Dark | Myth | 835 | 45 | 484 | 198 |

| ATK | DEF | MGC | RES | SPD | LCK |
| --- | --- | --- | --- | --- | --- |
| 48 | 45 | 42 | 41 | 43 | 40 |
List of Skills

Skill
Element
Cost
Effect
Dark Howl
Dark
25 HP
Small dmg. Foes
Shockbolt
Thunder
35 HP
Large dmg +Paralyze. Foes
Triple Nova
Fire
50 HP
Hit x3. 1 Foe
Hyper Boost
Earth
10 HP
Stats Up. Self
Quick Blade
Dark
20 HP
1st Hit +FX Cancel. Foes
Dark Judge
Dark
50 HP
Large dmg +Faint. Foes
Devil Children Fire/Ice BookEdit
| Class | Element | Type | Exp | Level | HP | MP |
| --- | --- | --- | --- | --- | --- | --- |
| King | Dark | Myth | 835 | 45 | 484 | 198 |

| ATK | DEF | MGC | RES | SPD | LCK |
| --- | --- | --- | --- | --- | --- |
| 48 | 45 | 42 | 41 | 43 | 40 |
List of Skills

Dark Howling
Sabaki no Ikazuchi
Triple Vice
Hunbari
Quick Blade
Yami no Shinpan