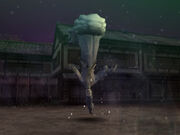 Binbou-gami (ビンボウガミ) is a demon in the series.
Appearances
Edit
A Japanese god of poverty. Families in Japan will hold ceremonies in the hopes of ridding their homes of him, taking their financial troubles with him.
Devil Summoner: Raidou Kuzunoha vs. King AbaddonEdit
"A cursed god that brings poverty. It perfers to haunt the homes of lazy people. Legend says that it can be driven away or converted to a god of good fortune through hard work."
—Gouma-Den Devil Chart
Binbou-gami is the first Fiend to appear in the game. Shortly after Raidou has his luck drained in an encounter with the Fukoshi, Binbou senses him and attacks. Due to Binbou's abilities, all of Raidou's attacks miss, and he is forced to flee. Binbou once again appears before Raidou while pursuing his main suspect in the Dark Realm of Mannen-Cho, although he is weakened after attempting to possess the man, the man's high amount of luck not allowing the possession to take place. Raidou then takes advantage of Binbou-gami's weakened state to drive him off; unfortunately, the Fiend leaves under the impression that there's a certain something between himself and Raidou, hoping to receive more of his "love-punishment" again.
Devil Summoner 2: Raidou Kuzunoha vs. King AbaddonEdit
First Boss Fight
Edit
| Level | Order | HP | ST | MA | VI | LU | Conversation | Investigation |
| --- | --- | --- | --- | --- | --- | --- | --- | --- |
| 35 | Fiend | 3480 | 12 | 18 | 14 | 10 | - | - |
| Resists | Block | Absorbs | Weak | Frail |
| --- | --- | --- | --- | --- |
| - | Death, Mind | Ice | - | Fire |
List of Skills

Skill
Effect
Money Rain
Money rains from the sky.
Pulinpa
Light Mind dmg to an area +Panic(Med)
Second Boss Fight
Edit
| Level | Order | HP | ST | MA | VI | LU | Conversation | Investigation |
| --- | --- | --- | --- | --- | --- | --- | --- | --- |
| 12 | Fiend | 2700 | 9 | 10 | 18 | 7 | - | - |
| Resists | Block | Absorbs | Weak | Frail |
| --- | --- | --- | --- | --- |
| - | Death, Mind | Ice | - | Fire |
List of Skills

Skill
Effect
Money Rain
Money rains from the sky.
Pulinpa
Light Mind dmg to an area +Panic(Med)
Rush
Light Phys dmg, dash attack +Dizzy(Low)
Mabufu
Medium Ice dmg to an area. Stun: Med
Third Boss Fight
Edit
| Level | Order | HP | ST | MA | VI | LU | Conversation | Investigation |
| --- | --- | --- | --- | --- | --- | --- | --- | --- |
| 40 | Fiend | 3880 | 14 | 15 | 20 | 10 | - | - |
| Resists | Block | Absorbs | Weak | Frail |
| --- | --- | --- | --- | --- |
| - | Death, Mind | Ice | - | Fire |
List of Skills

Skill
Effect
Money Rain
Money rains from the sky.
Pulinpa
Light Mind dmg to an area +Panic(Med)
Rush
Light Phys dmg, dash attack +Dizzy(Low)
Mabufu
Medium Ice dmg to an area. Stun: Med
Summonable Ally
Edit
| Level | Order | HP | ST | MA | VI | LU | Conversation | Investigation |
| --- | --- | --- | --- | --- | --- | --- | --- | --- |
| 33 | Fiend | 441 | 16 | 16 | 10 | 10 | Extortion | - |
| Resists | Block | Absorbs | Weak | Frail |
| --- | --- | --- | --- | --- |
| - | Death Mind | Ice | - | Fire |
List of Skills

Skill
Cost
Effect
Level
Pulinpa
16 MAG
Light Mind dmg to an area +Panic(Med)
Innate
Bufudyne
18 MAG
Heavy Splash Ice dmg. Stun: Long
34
Mad Rush
28 MAG
Medium Phys dmg, dash attack +Dizzy(Low)
35
Money-Getter
Passive
Find money while walking
Max Loyalty