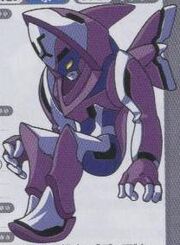 Barchiel (バキエル, Bakieru) is a demon in the series.
An Archangel who also goes by Barachiel and Barkiel. His name in Hebrew means Lightning of God and Blessings of God in Arabic. He is an angel of lightning who is associated with the month of February and the Zodiac Signs Pisces. Sometimes he is said to be the ruler of the planet Jupiter.
Appearances
Edit
DemiKids: Light & DarkEdit
"A demon who turned from Good to evil. Currently rules over the house of Pisces."
Known as Mariner, he has the power WaterHoard, which allows him to absorb water type attacks. Mariners can be found in the Foggy Marsh and Lair Area.
Devil Children Messiah RiserEdit
A Barchiel attempts to assassinate the Devil Children at the beginning of the game, but their demons partners arrive and stop them before he could. Afterwards he faces Akira and his partner Gale. Another Barchiel is seen with an Angel running away from the Devil Children and dies in the poisonous swamp Angel lead him into.
DemiKids: Light & DarkEdit
| Class | Element | Type | Exp | Level | HP | MP |
| --- | --- | --- | --- | --- | --- | --- |
| Common | Water | Holy | | 5 | 61 | 30 |

| ATK | DEF | MGC | RES | SPD | LCK |
| --- | --- | --- | --- | --- | --- |
| 6 | 7 | 9 | 8 | 6 | 8 |
List of Skills

Skill
Element
Cost
Effect
Aqua Cut
Water
10 HP
Small dmg. 1 Foe
Aqua
Water
5 MP
Small dmg. 1 Foe
Heal
Light
5 MP
Minor HP recovery. 1 Ally
Aqua Flood
Water
20 HP
Small dmg. 2 Foes
Hyper Drain
Dark
8 MP
Null +Stat. Foes
Venom Foam
Water
20 HP
Small dmg +Confuse. 1 Foe
Devil Children Fire/Ice BookEdit
| Class | Element | Type | Exp | Level | HP | MP |
| --- | --- | --- | --- | --- | --- | --- |
| Common | Water | Holy | | 5 | 61 | 30 |

| ATK | DEF | MGC | RES | SPD | LCK |
| --- | --- | --- | --- | --- | --- |
| 6 | 7 | 9 | 8 | 6 | 8 |
Devil Children Messiah RiserEdit
| Number | Element | Weakness | Type | Level | HP | MP |
| --- | --- | --- | --- | --- | --- | --- |
| 17 | Water | Thunder | Holy | 5 | 50 | 60 |
| ATK | MGC | DEF | RES | SPD | Quick | Call | Spell |
| --- | --- | --- | --- | --- | --- | --- | --- |
| 4 | 10 | 1 | 3 | 10 | 33 | 4 | Aqua |
| Number | Element | Weakness | Type | Level | HP | MP |
| --- | --- | --- | --- | --- | --- | --- |
| 97 | Water | Thunder | Holy | 18 | 140 | 100 |
| ATK | MGC | DEF | RES | SPD | Quick | Call | Spell |
| --- | --- | --- | --- | --- | --- | --- | --- |
| 8 | 20 | 13 | 13 | 10 | 33 | 20 | Aqua |