This article is about the Persona 5 Strikers mechanic. For the concept, see Bond (concept).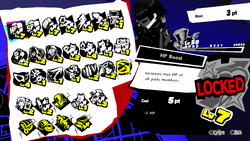 BOND, known as BAND (バンド, Bando)? in Japanese, is a mechanic in Persona 5 Strikers.
The BOND system is a spiritual successor to the Confidant abilities of Persona 5. Rather than getting new abilities through ranking up with individual characters, the BOND system levels up the Phantom Thieves' ability as a whole, from increasing their physical capabilities, strengthening Personas, to various support mechanics.
Most skills can be increased repeatedly, up to a set level. Throughout the game, leveling up the BOND meter earns BOND points, which starts with a handful at a time. As the BOND level increases, the number of points gained rises with it.
There are 30 BOND skills in total, among which many are unlocked upon meeting set conditions, like the completion of a request, while others are tied to story advancement. Certain level caps can also be applied to prevent ranking up skills further, each capping out at different stages until certain story conditions are met or requests are completed.
BOND points are earned by progressing the BOND meter, which can be done in the following ways: defeating enemies in Jails, hitting story milestones and having social events with other Phantom Thieves, touching certain objects (mostly located near the party's camper, which can be used once per day for a small increase), cooking recipes for the first time, and finishing some requests.
Trophy
Name
Description
Row 1
HP Boost
Increases health points.
SP Boost
Increases stamina points.
Strength Boost
Affects physical attack and gun damage.
Magic Boost
Affects magical attack damage.
Endurance Boost
Increases defense.
Agility Boost
Affects crit rate and auto-evasion.
Luck Boost
Affects crit evasion and status ailment rates.
Row 2
Pass Appeal
Fills your Showtime gauge faster when switching between active party members.
Harisen Helper
Increases chance to trigger Harisen Recovery, letting allies cure a status ailment.
Oracle Recovery
Restores HP and SP to all party members at the end of battle.
Martial Arts
Increases damage for physical skills.
Spiritual Arts
Increases damage from magical skills.
Tactical Arts
Increases chance for skills to inflict status ailments.
Supportive Arts
Increases duration for buffs and debuffs from skills.
Row 3
Joker's Wild
Increased chance for Persona masks to manifest from defeated enemies.
Ambusher
Restores HP to all party members upon successfully ambushing Shadows.
Phantom Striker
Increased damage when performing a phantom dash.
Avenger
Evading enemy attacks can grant stronger counterattacks.
Ammo Hoarder
Increases ammo count for every party member, based on the gun type.
Proper Showman
Increases damage for Showtime attacks.
Spirit Striker
'1 More' attacks restore individual SP and All-Out Attacks restore party SP.
Row 4
Smart Shopper
Obtain better deals at Sophia's Shop.
Metaverse Medic
HP/SP recovery items have increased potency.
Bondmaker
BOND level increases faster.
Highwayman
Increased chance to obtain items upon completing a battle.
Extortionist
Increases money gained after completing a battle.
Row 5
Safecracker
Allows more difficult treasure chests to be picked open.
Master Chef
Allows the protagonist to create more food with stronger effects.
Treasure Hunter
Increased chance to encounter Treasure Demons.
Packrat
Junk parts become easier to obtain.
Community content is available under
CC-BY-SA
unless otherwise noted.