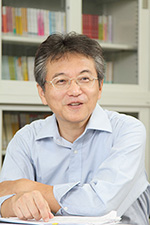 Aya Nishitani (西谷史, Nishitani Aya) is the novelist whose works inspired the creation of the Megami Tensei franchise.
He was born in 1955 and is a graduate of Hokkaido University's economics department. He was inspired to write Digital Devil Story: Megami Tensei while working at an electronic manufacturer. Digital Devil Story was originally written as a serialized piece in Oh!PC magazine and was later developed into a full novel.
This is a list of his works relating to the Megami Tensei franchise. Nishitani, however, has continued to work on other novels outside the series' scope.
Game credits
Edit
This is a list of games Nishitani has been credited on.
According to Suzuhito Yasuda, the character designer for the Devil Survivor series, Aya Nishitani attended the same school as him, making him his upperclassman.
Digital Devil Story was not the only novel by Nishitani that inspired a game. His later released Tokyo Shadow novels were made into a game for the Sega Saturn and Playstation.
According to Nishitani, the idea for the demon summoning program came from his interest in astrology as a child which lead to him learning about western black magic. Because of this he thought the idea of practicing black magic on a PC would be interesting.[1]
He was inspired by Hanmura Ryou and H.P.Lovecraft.
In 1994 his favourite game from the series was Shin Megami Tensei.
References
Edit
↑ https://dijeh.tumblr.com/post/145807344153/heres-a-recent-interview-with-nishitani-aya (Archived at [1] and [2])
Community content is available under
CC-BY-SA
unless otherwise noted.