World of Warcraft: Dragonflight - The Loop
Play Sound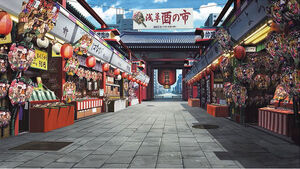 Asakusa is a location in the series.
About
Asakusa (浅草) is a district in Taitō, Tokyo, Japan, most famous for the Sensō-ji, a Buddhist temple dedicated to the bodhisattva Kannon. There are several more temples in Asakusa, as well as various festivals.
For most of the twentieth century, Asakusa was the major entertainment district in Tokyo. The golden years of Asakusa are vividly portrayed in Yasunari Kawabata's novel 'The Scarlet Gang of Asakusa' (1930; English translation, 2005). In its role as a pleasure district, it has now been surpassed by Shinjuku and other colorful areas of the city.
Profile
In Shin Megami Tensei III: Nocturne, Asakusa is the birthplace of the Manikins. They were made from the mud in a river flowing in their holy ground, Mifunashiro. The Manikins actively try to restore their town, while Futomimi spends his time in Mifunashiro meditating about the Manikins' future and trying to create a Reason for his people. After Jyoji Hijiri is killed in the Amala Temple, Chiaki and her followers invade the town and proceed to massacre the Manikins and break into Mifunashiro to successfully steal their Magatsuhi, summoning her demonic sponsor, Baal Avatar.
Shin Megami Tensei V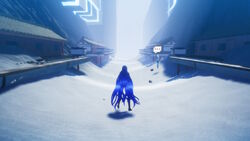 Asakusa is a large region in the south-eastern part of Taito, Da'at. It is the territory of the Hindu branch of Bethel, where Vasuki protects the Key of Benevolence.
Asakusa is one of the hangout locations available in the Tokyo map. It is unlocked after either Ann Takamaki's Confidant has reached Rank 7, or the protagonist has read Shitamachi Reborn.
The protagonist can hang out with his Confidants by visiting Nakamise Street and Sky Tower within the district.
Unused Content
In Persona 5 Royal, there is an unused event where Sojiro Sakura gives the protagonist tickets to take him and his friends to go the Skytree to thank him for helping Futaba. A newspaper solicitor gave them to Sojiro and thought that since its summer vacation, he might as well give them away. The protagonist and his friends enjoy viewing the city from up in the Skytree, but they worry about Medjed's deadline. Makoto checks if they've done anything yet but so far nothing has happened. The event ends after they realize that they shouldn't worry about it and just enjoy it while they still can. The event is fully voiced and was designed to be added after Futaba's Palace was completed.
Persona 5 The Animation
In the anime adaptation of the game, Ren and his friends visited the Sky Tower for the first time after Sojiro Sakura gave tickets to them after helping Futaba.
Items
Shin Megami Tensei III: Nocturne
Note: The bold items can only be obtained during a full Kagutsuchi phase in treasure chests.
Demons
Shin Megami Tensei III: Nocturne
| Level | Race | Demon | HP | MP | Weak | Strong | Null | Drain | Repel | Skills |
| --- | --- | --- | --- | --- | --- | --- | --- | --- | --- | --- |
| 3 | Jirae | Kodama | 20 | 21 | Fire | Force | - | - | - | Zan, Dia |
| 5 | Jirae | Hua Po | 50 | 30 | Ice | Fire | - | - | - | Rakukaja, Agi, Maragi |
| 13 | Jirae | Sudama | 96 | 60 | Fire | Force | - | - | - | Makakaja, Mazan, Kamikaze |
| 13 | Beast | Inugami | 132 | 60 | Force | - | Fire/Death | - | - | Rakunda, Feral Bite, Panic Voice |
| 18 | Beast | Nekomata | 156 | 90 | Elec | - | - | Force | - | Marin Karin, Feral Claw, Stun Needle |
| 28 | Foul | Black Ooze | 264 | 111 | Elec/Expel | Phys | Death | - | - | Deathtouch, Panic Voice, Mute Gaze, Gathering (Black Ooze) |
| 28 | Haunt | Pisaca | 270 | 114 | Fire | - | Death/Curse/Mind | - | - | Venom Bite, Stun Gaze, Sonic Wave, Life Drain, Gathering (Pisaca) |
| 31 | Wilder | Nue | 258 | 120 | Fire | - | Ice/Death | - | - | War Cry, Stun Claw, Ice Breath, Mamudo, Dark Howl (Nue) |
| 32 | Femme | Shikome | 246 | 144 | Fire | Mind | Curse/Nerve | - | - | Stun Needle, Stone Gaze, Laughter (Shikome) |
| 34 | Beast | Orthrus | 340 | 129 | Ice | - | - | Fire | - | Stun Claw, Fire Breath, War Cry, Fire Boost |
| 35 | Jirae | Sarutahiko | 392 | 126 | Nerve | - | Death/Expel | - | - | Counter, Focus, Berserk, Hell Thrust, Dragon Eye, Beast Eye |
| Level | Race | Demon | HP | MP | Weak | Strong | Null | Drain | Repel | Skills |
| --- | --- | --- | --- | --- | --- | --- | --- | --- | --- | --- |
| 11 | Divine | Angel | 108 | 54 | Force/Death | - | - | - | Expel | Hama, Dia |
| 18 | Divine | Archangel | 156 | 72 | Ice/Death | - | - | - | Expel | Tarukaja, Diarama, Mighty Gust, Hama |
| 28 | Divine | Principality | 222 | 120 | Death/Mind | - | - | - | Expel | Diarama, Hamaon, Heat Wave |
| Level | Race | Demon | HP | MP | Weak | Strong | Null | Drain | Repel | Skills |
| --- | --- | --- | --- | --- | --- | --- | --- | --- | --- | --- |
| 4 | Brute | Shikigami | 48 | 27 | Fire | - | - | - | Elec | Zio, Sukunda, Tarukaja, Tarunda |
| 18 | Divine | Archangel | 156 | 72 | Ice/Death | - | - | - | Expel | Tarukaja, Diarama, Mighty Gust, Hama |
| 18 | Beast | Nekomata | 156 | 90 | Elec | - | - | Force | - | Marin Karin, Feral Claw, Stun Needle |
| 25 | Brute | Oni | 264 | 96 | Nerve | Phys | - | - | - | Berserk, War Cry |
| 33 | Divine | Power | 320 | 126 | Death/Nerve | - | - | - | Expel | Tarukaja, Guillotine, Hamaon |
| 50 | Divine | Dominion | 390 | 204 | Death/Curse | - | - | - | Expel | Makajam, Tetrakarn, Violet Flash, Diarahan |
| 54 | Beast | Sparna | 408 | 219 | - | - | Ailments | - | Force | Sukukaja, Fog Breath, Zandyne |
| 54 | Brute | Shiki-Ouji | 420 | 234 | Fire | - | Phys | - | Expel/Death | Mahamaon, Mamudoon, Stun Needle |
| 55 | Jirae | Gogmagog | 456 | 207 | Fire | - | Phys/Ice/Death | - | - | Sukunda, Tarunda, Rakunda, Tornado, Berserk, Diarama |
Gallery