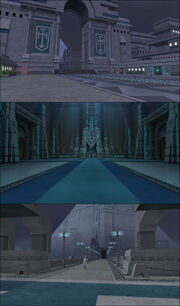 Arcadia (聖都アルカディア, Seito Arukadia) is the capital city of the Order of Messiah faction in Shin Megami Tensei IMAGINE.
Profile
[
]
Arcadia is located on the outskirts of Shinagawa. In contrast to Souhonzan, Arcadia is comprised mostly of clinically designed buildings, in addition to its towering cathedral, and the temple located at the rear of the city. Divine family demons like Principality and Power are represented in statues throughout the city.
Their leader, Lord Judah of the Seven Philosophers, resides in the temple at the back of Arcadia. Arcadia is populated mostly by Templars of the Messian Order.
Gallery
[
]
A Messian in Arcadia
One of the divine statues in the city
The Arcadian temple in which Judah resides