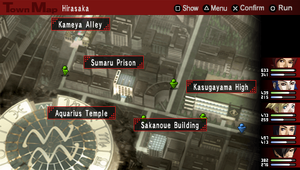 "Aquarius... It's associated with the element of wind, symbolizing upheaval and destruction, as well as evolution and philanthropy..."
—Jun Kurosu, Innocent Sin
Aquarius Temple is a location in Persona 2.
Appearances
Edit
Innocent SinEdit
The Aquarius Temple is one of the four astrological temples, appearing after Xibalba is activated from the depths of Caracol, from which the party must retrieve the Crystal Skulls; the Aquarius Temple holds the Wind Crystal Skull. The interior structure of each temple changes depending on the order in which it is done, and once the player enters a temple no other temple can be entered until it is finished.
In each of the temples, one of the character's Ultimate Persona can be upgraded if it is equipped before and during the temple's boss fight. Aquarius Temple is Jun's temple - if he is equipped with Hermes when the Longinus trio is fought, Hermes will attain the ability to mutate into Chronos once it reaches Max Rank.
Treasures
Edit
Innocent SinEdit
1F: Tetraja Card x1, Magical Guard x3
2F: St Incense x1
3F: ¥50000, Dx Card x1
Purple

boxes indicate rumor demons.

Indigo

boxes indicate bosses.
Innocent SinEdit
Community content is available under
CC-BY-SA
unless otherwise noted.