Ambush is a mechanic in the series.
Overview
[
]
Ambush is generally a mechanic used in games including Symbol Encounters, where if the player character sneaks up on and attacks an enemy symbol, they'll be able to initiate combat with a turn advantage. On the other hand, it is also possible for the enemy to ambush the party, leaving them at a disadvantage as well.
Soul Hackers 2

[

]
In Soul Hackers 2, although the enemies will receive turn advantage, if Ringo strikes an enemy symbol and attacks them while they're knocked down, the party will receive a bonus attack.
Persona 5 / Royal

[

]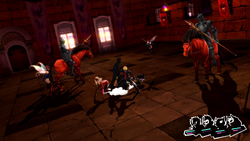 In Persona 5, Ryuji Sakamoto's "Insta-kill" Confidant ability gives the protagonist a chance to instantly win the battle after a successful ambush, which may also yield rewards. In Persona 5 Royal, this only happens if the protagonist is dashing. In Persona 5 Royal, Sumire Yoshizawa's "Tumbling" ability makes it possible to evade scenarios where the party's surrounded. Also, her Chaînés Hook ability allows the protagonist to ambush from a distance with the grappling hook.
There are several skills in Persona 5 that are influenced by the ambush's condition. Adverse Resolve, increases the user's Critical rate when their side of the battle is surrounded, while Fortified Moxy does the same but when starting with a preemptive turn. Cornered Fang is stronger in combat if the party's surrounded.