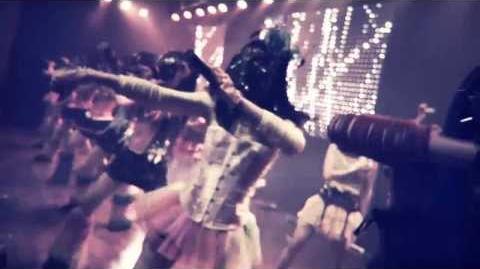 Amatsuchi (天地-AMATSUCHI-) was a song released by Kamen Joshi (仮面女子) in a collaboration tie-up event between the unit and Shin Megami Tensei IMAGINE. A music video featuring cutscenes from the game alongside a live performance was published on the main site and in Third Home and Shinjuku Babel it was possible to hear the song when standing in certain areas throughout October 2013.
Original
Romaji

闇の中に光が射し 天と海と大地となれ

消えない見えない Light and Darkness Light and Darkness
白と黒の 羽が舞う God and Evil

我は降り立つこの地上に 破壊の地に
(不安、絶望、混沌と秩序の果てに)
生まれ変わり また再び 月を臨む
(堕落、放蕩、導く裁きの剣)

Sunrise 時は満ち 断罪 Ohhhhh...
Sundown 夜を往き No turn 精神・・・肉体・・・燃焦・・・

永久なる記憶 切なる祈り 想いの果てに 何処に堕つる

果敢無き者を背負い 勇無き者を召して 罪無き者は一人
(地脈、血脈、脈々、Soul!息衝くSoul!)
幼き者を抱き 飽く無き者となりて 意思無き者を統べる
(五感、体感、召還、目醒めよSoul!)

迅雷 打ち鳴らせ 万雷 Ohhhhh...
招来 生命と成り 光来 夢を・・・愛を・・・識る・・・

Sunrise 陽は昇り 再来 Ohhhhh...
Sundown 火を燈せ 降誕 精神・・・肉体・・・燃焦・・・
(Yeah!参戦!その身捧げよ聖戦)
心象・・・
(Yeah!捲土重来!今こそ拳掲げよ!狼煙よ頼!)
万象・・・
(悪鬼殲滅!集え我が背に宿れよ命の禮!)
転生・・・
(天と語らい 海と語らい 大地さすらい 人間の未来)
獣よ鳥よ 数多の精霊よ 剣と成りて
刻む天地

Yami no naka ni hikari ga sashi, Sora to umi to daichi to nare

Kienai mienai Light and Darkness Light and Darkness
Shiro to kuro no hane ga mau God and Evil

Ware wa oritatsu kono chijou ni, Hakai no chi ni
(Fuan, Zetsubou, Konton to chitsujo no hate ni)
Umarekawari mata futatabi, tsuki wo nozomu
(Daraku, Houtou, Michibiku sabaki no ken)

Sunrise Toki wa michi Danzai Ohhh...
Sundown Yoru wo yuki No turn Kokoro... Karada... Nensho...

Towanaru kioku setsunaru inori omoi no hate ni izuko ni otsuru

Kakan nakimono wo seoui, Yu nakimono wo meshite, Tsumi nakimono wa hitori
(Chimyaku, Ketsumyaku, Myakumyaku, Soul! Ikitzuki Soul!)
Osanakimono wo idaki, Akunakimono to narite, Ishinakimono wo suberu
(Gokan, Taikan, Shokan, Mezameyo Soul!)

Jinrai uchinarase banrai Ohhh...
Shourai, Hito to nari, Kourai, Yume wo... Ai wo... Shiru...

Sunrise Hi wa nobori Sairai Ohhh...
Sundown Hi wo tomose Koutan Kokoro... Karada... Nensho...
(Yeah! Sansen! Sono mi sasageyo seisen)
Shinshou...
(Yeah! Kendochourai! Imakoso kobushi kakageyo! Noroshiyo rai!)
Banshou...
(Akki senmetsu! Tsudoe waga se ni yadoreyo inochi no rai!)
Tenshou...
(Sora to katarai, Umi to katarai, Daichi sasurai, Hito no mirai)
Kemono yo, tori yo, Amata no seirei yo, Tsurugi to narite
Kizamu amatsuchi
Community content is available under
CC-BY-SA
unless otherwise noted.