Fire Emblem Warriors: Three Hopes - The Loop
Play Sound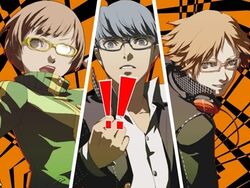 "When enemies are thrown off balance, they become vulnerable. An All-Out Attack will allow your entire team to attack simultaneously. Your enemies will be unable to defend against it; it's a very reliable method of attack. Whether or not you want to perform an All-Out Attack is up to you. But remember, you cannot perform it when you're alone. So if you want to have it in your arsenal, make sure your team is comprised of at least two members. That's all you need to know about All-Out Attacks."
All-Out Attack (総攻撃, Soukougeki)?, known as (フルボッコ, Furu Bokko)? among fandom, is a battle tactic in the Persona series.
Appearances
[
]
Role
[
]
As its name implies, triggering the command allows all characters to strike all enemies together at the same time. When executed, a cut-in session briefly showcases the face or bust images of all participants, then all participants will rush into the enemies in a burst of comical dust and attack effects. In Persona 3 and Persona 4, if the attack does not finish off the enemies, then the characters will also be seen being knocked out before running back in the dust.
In addition, in Persona 4 and Persona 3 Portable, if the attack is the finishing blow to the remaining enemies, the clouds will form a comical skull as a finishing touch. In Persona 5, instead of the smoke of skull, the last party member who contributes to the chance of that All-Out Attack will receive a "finishing touch" close-up, replacing the generic victory cutscene.
Persona 2

[

]
Main article: Triple Charge
The comical graphic style can date back to Persona 2, which has a Fusion Spell called "Triple Charge" and requires 3 Personas to perform the Havoc skill "Bash" together. This technique deals large Havoc-type damage to one foe.
In the PSP remakes of the duology, the All-Out Attack cut-in effect similar to the style of Persona 4 Golden is retroactively added before the initiation of any Fusion Spell. This extra animation can be turned off in the option menu.
Persona 3 / Persona 4

[

]
This topic is in need of research for the following reason:
* "One rule of thumb is that as long as the final attack grants a 1 More and all enemies on the field are Downed, an All-out Attack can be initiated." Double-check if AOA acts as a substitute to 1 More, and refraining doesn't use up 1M.


This can be discussed on the article's talk page.
"There is a better way to defeat all of your enemies in battle than to attack them individually... You can perform an "All-Out Attack.""
—Mitsuru Kirijo, Persona 3
Like Fusion Raids or Fusion Spells, the prerequisite to trigger an All-Out Attack requires more than one character on the battlefield, and the protagonist cannot initiate All-Out Attacks alone. Furthermore, all enemies on the battlefield must be knocked down in order to trigger the All-Out Attack command. Also, any members with any status effect that makes them uncontrollable manually (via the "command" option in tactics) will make them unable to join in; if the protagonist suffers from this, then it can't be initiated at all. "Knocked Down," or simply "Down," is a status that can be inflicted in multiple ways, such as exploiting an enemy's weakness, unleashing a Critical hit on them, or from simply missing a physical attack, which can sometimes cause them to "stumble." The Fusion Spell "Jack Brothers," usable with Jack Frost and Pyro Jack, and Kanji's "The Man's Way" special skill can also be used to achieve this effect as well.
However, there are some instances in which even though all enemies are knocked down, the All-Out Attack command will not initiate. One such case is if multiple enemies are faced, and all but one is knocked down; if the not-downed enemy is killed without unleashing a Critical or a weakness-exploiting attack on it, thus leaving the enemy party entirely knocked down, the party will not get an opportunity to unleash an All-Out Attack (unless the attack was a Follow Up attack that either didn't count, or was a Critical or weakness-exploit, such as when finishing the last enemy that hasn't been downed with Chie's Galactic Punt). While late in-game boss enemies are mostly without weaknesses, the All-Out Attack can still be triggered should the boss enemy be hit with a Critical physical attack or miss with its own physical attack and slip.
The damage of an All-Out Attack is based on the normal weapon attack damage of each character and the total present characters in the battlefield. Thus, theoretically, the more powerful the characters' equipped weapons are, the more damage the All-Out Attack inflicts. All-Out attacks also deal more damage should there be only one targeted foe, rather than a group. An All-Out Attack is Physical Almighty based, meaning it cannot be voided, repelled or drained. However, the damage of an All-Out Attack can still be severely withered should the targeted enemies resist Physical and/or Almighty-based attacks.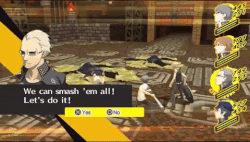 In Persona 3 Portable, finishing a battle with an All-Out Attack guarantees activation of Shuffle Time, as the "final blow" is still credited to the protagonist, therefore making its use pivotal in grinding.
In Persona 4 Golden, Rise Kujikawa can randomly join the team during an All-Out Attack. If she joins, a special animation will play. She will add damage to the attack and cause the cloud of smoke to be colored purple. The amount of damage added will increase every time the protagonist spends time with her on a scooter trip and has her think of her future.
Also exclusive to Persona 4 Golden, if an All-Out Attack doesn't defeat all the enemies, an additional follow up attack will sometimes trigger. These attacks require two specific teammates, with both participating in the All-Out Attack (not Downed, Dizzy, etc). They have special animations and deal Physical damage. No team configuration exists that can hold more than one pair of characters capable of this.
The character pairs that can perform these attacks (and their names) are:
Persona 4 Arena

[

]
All-Out Attacks are a special, universal offensive option in the Persona 4 Arena duology. Any character can perform an All-Out Attack at any time by pressing the A+B buttons while standing. This causes the player character to rush toward the enemy with an overhead strike while guarding against most enemy attacks. If the attack connects, the player can execute an All-Out Rush by mashing the A+B buttons during an All-Out Attack, increasing the number of hits and damage dealt by up to an additional 17 hits. At the end of an All-Out Attack, the attacking player can press the C or D buttons to launch the enemy, with varying results depending on which finisher was executed and the number of hits added during the All-Out Rush.
Persona Q: Shadow of the Labyrinth

[

]
All-Out Attacks are initiated at the end of a turn, with the chance of one occurring depending on how many characters are Boosted; the more characters in the Boosted state, the greater the chance of an All-Out Attack occurring. Ending a battle with an All-Out Attack grants an Experience Bonus, increasing the received Experience Points to 150%.
Margaret, Elizabeth and Theodore use an All-Out Attack during the ultimate boss fight.
Persona 5

[

]
"I told you, it's called an All-out Attack. If you manage to knock all the enemies down, you might be able to use it to beat them all at once. It's a concentrated attack on defenseless enemies, after all."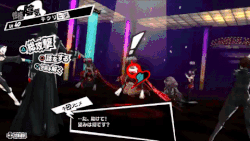 An All-out Attack is initiated by the same means as in Persona 3 and Persona 4. When all enemies are knocked down, a "Hold Up" session is triggered, accessing the choice between three options: "All-Out Attack," "Negotiation" and an option to disarm Hold Up. During negotiation, the option for All-Out Attack is still executable as long as it is the protagonist's turn to choose the next dialogue.
In order to trigger an All-Out Attack, there must be at least one other party member present alongside the protagonist. Additionally, allies that have been Downed or inflicted with a status ailment cannot participate. If the protagonist is not eligible to participate, or if he's the only one able to participate, the All-Out Attack cannot be triggered.
A different "finishing touch" close-up of that character will be displayed to replace the in-battle victory cutscene. The character selected is dependent on which ally inflicted the final Down that initiated the Hold Up.
Even Caroline and Justine, in their boss fight, have their own "All-Out Attack" and "finishing touch." They will perform it if the entire party is Downed, or if the party takes too much time to bring them to the next HP threshold, they will use Ardha to Down the entire party and initiate it. If they do so, it will instantly defeat the party regardless of their HP, defense or resistances. In Royal, their complete self, Lavenza, can perform an All-Out Attack by splitting back into the Twins before merging back for the finishing touch.
In Persona 5 Royal, as part of her trait, Futaba Sakura can join in on an All-Out Attack. In hers, she summons a giant bomb and will wipe out all enemies instantly.
All finishing touches can be viewed in the Thieves Den.
Each character has a unique victory screen if they are the one who initiates the All-Out Attack. These victory screens also have a tagline and are as follows:
In Persona 5 The Animation, those taglines do not appear for a "finishing touch" when an All-Out Attack is occurred until Episode 5 "The Phantoms." This is considered as an error in the original TV version and was fixed in the home video release version.
Persona Q2: New Cinema Labyrinth

[

]
Compared to Persona Q, the conditions for an All-Out Attack are more straightforward in Q2. Like with most other Persona games, hitting enemy weaknesses or getting critical hits will knock them down; when all enemies have been Downed, an All-Out Attack can be initiated, dealing massive damage to all enemies. If the All-Out Attack is not lethal, any survivors lose their "Downed" state, meaning the party can knock them down again with any remaining queued actions to trigger another All-Out Attack in the same turn.
There may be reasons to not perform an All-Out Attack when given the opportunity. Downed enemies have their turn order pushed far back or may even be forced to skip their turn entirely, so relenting can help preserve Boosts for the next turn if one is certain their All-Out Attack won't be lethal. Some enemies or bosses, such as Super Kamoshidaman and Order Gigant, are known to immediately cover their weaknesses the moment they recover from an All-Out Attack, which can make it difficult to sustain Boost during a fight.
If the battle is completed with an All-Out Attack, not only does the game display a unique graphic for the battle's end, but the party will receive a 1.2x multiplier to EXP from the battle. This Finish Bonus can be augmented with sidequest rewards; some rewards increase the bonus multiplier even further (up to 2x), and one reward allows the party to carry any Boosts they have into the next fight.
Caroline and Justine, Margaret, Elizabeth, and Theodore can also use All-Out Attacks during their ultimate boss fight.
Persona 5 Strikers

[

]
An All-Out Attack can be triggered on any enemy who is Downed by having all of their Down Gauges broken, either by attacking the enemy's weakness or landing a Technical or Critical Hit. There must be at least two active party members on the field to trigger an All-Out Attack, or else it will simply produce an additional 1 More. An All-Out Attack can be executed with any character, even if the protagonist is incapacitated. When an All-Out Attack is activated, all available party members will jump to the enemy's location and deal heavy Almighty damage to all enemies within a certain radius while pulling other enemies on the field into its attack range.
When executing an All-Out Attack against a boss enemy, a unique animation will play where the screen turns red and the enemies become silhouettes (emulating the All-Out Attacks from the original Persona 5) before the party attacks their foes, ending with a "finishing touch" of the party posing in front of the enemy with a "TAKE YOUR HEART" tagline on-screen.
The Demiurge cannot normally be struck with an All-Out Attack even if its Shield Gauges are broken. After its health is depleted during its second phase, the Demiurge is defeated with a unique cinematic All-Out Attack that takes the form of a cutscene.
Soul Hackers 2

[

]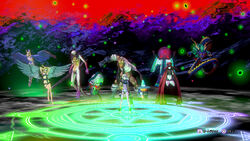 All-out Attack in Soul Hackers 2 is named "Sabbath" (サバト or 魔宴 , Sabato or Ma-en)?. Ringo's demonic allies cast a concentrated attack against the enemies, and plays at the end of the party's turn.
The technique is unleashed by stacking weaknesses. The weaknesses stack per turn, rather by individual enemies: for example, if 3 enemies' weaknesses are exploited during Ringo's turn, it will count as a single stack. Up to 16 demons can be stacked. The higher the number, the higher the damage.
Tandem Skills can be used before a Sabbath starts, which grant secondary effects to the attack, such as inflicting ailments or healing the party. Those skills have a chance to be open for use, and only 1 skill can be picked at a time, out of a selection of what's likely 4.
Gallery
[
]
Persona 2

[

]
Persona 3 / FES / Portable

[

]
Persona 4 / Golden

[

]
Persona 5 / Royal

[

]
Persona Q: Shadow of the Labyrinth

[

]
Persona Q2: New Cinema Labyrinth

[

]
Soul Hackers 2

[

]
Trivia
[
]
Appearances in Other Media
[
]
Super Smash Bros. Ultimate
BanG Dream! Girls Band Party!