Fire Emblem Warriors: Three Hopes - The Loop
Play Sound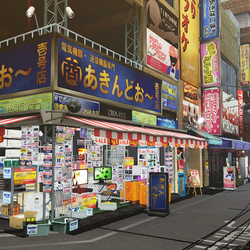 Akihabara (秋葉原) also known as Akiba, is a recurring location in the series.
History
[
]
Akihabara is one of the districts in Chiyoda, Tokyo, Japan. Akihabara is a well known place for otaku's to obtain anime, manga, video games, electronics, etc.
The district would be nicknamed "Akihabara Electric Town" shortly after World War II for being a major venue for for electronic goods and the black market that would follow the war.
Sotokanda is a district in . It encompasses the Akihabara region. Administratively, the Akihabara area mainly belongs to Sotokanda, the latter of which is almost equivalent to the former.
Appearances
[
]
Profile
[
]
Shin Megami Tensei V

[

]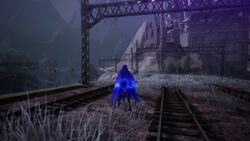 The protagonist enters Akihabara in search of a means to dispel Surt's flames in Awajicho. As a Power on the way warned in the previous area, Shohei Yakumo is in the vicinity and will confront the protagonist after killing three Forneus demons. After hearing of the protagonist's battle with Lahmu, he acknowledges that the protagonist has lost something precious due to demons, and asks the protagonist what he thinks of them. He will leave afterward, leaving the protagonist to continue on with his task.
Areas related to Akihabara include Sotokanda, Mansei Bridge, Akihabara Electric Town and Suehirocho.
Persona 5 / Royal

[

]
Akihabara is unlocked in August 31st as a traversable area when Futaba Sakura asks the protagonist to come there for the event that starts the Hermit Arcana Confidant. It is also where a maid café, one of the Gigolo arcades, an old machine parts store, Tokobushiya goods shop, and one of the Velvet Room entrances are located. The arcade within the area is where the protagonist first meets Shinya Oda.
Devil Survivor

[

]
Akihabara is one of the locations that is part of the Tokyo Lockdown.
Shin Megami Tensei: Liberation Dx2

[

]
Akihabara is where the Liberators' hideout is located. Many of the other characters also have professions revolving around the area: Megakin does his Megatube broadcats from the hideout; Eileen works part time at a swimsuit cafe, and Shionyan is one of the many "Underground Idols" of Akiba.
Treasure
[
]
Shin Megami Tensei V

[

]
Akihabara
[
]
Mansei Bridge
[
]
Akihabara Electric Town
[
]
Mishaguji's Essence

Ose's Essence

Grimoire

x2
Enemies
[
]
Shin Megami Tensei V

[

]
Level
Race
Demon
HP
Phys
Fire
Ice
Elec
Force
Light
Dark
Res
Skills
Drop
38
Raptor
Muu Shuwuu
322
-
Wk
-
-
Nul
-
-
-
Zanma, Mazanma, Tetrakarn
Life Stone,

Force Gem

,

Muu Shuwuu's Essence

38
Jirae
Narcissus
342
-
Wk
-
-
Nul
-
-
Res:Confusion, Nul:Charm
Sexy Dance, Tentarafoo, Hellish Mask
Life Stone,

Ox Bezoar

,

Narcissus's Essence

38
Night
Succubus
372
-
Res
Nul
-
-
Wk
-
Nul:Sleep/Charm
Bufula, Spirit Drain, Masukunda
Life Stone,

Charm Gem

,

Succubus's Essence

39
Genma
Kurama Tengu
297
-
-
-
Wk
Nul
-
-
Wk:Charm
Res:Seal
Acrobat Kick, Wind Dracostrike
Life Stone,

Force Gem

,

Kurama Tengu's Essence

40
Yoma
Valkyrie
469
-
-
-
-
Wk
Nul
-
Wk:Seal, Res:Charm
Critical Wave, Storm Dracostrike
Life Stone,

Chakra Drop

,

Valkyrie's Essence

40
Snake
Naga Raja
651
-
Wk
Res
Drn
Wk
-
-
-
Ice Breath, Shockbound, Elec Pleroma
Life Stone,

Ice Gem

,

Naga Raja Essence

41
Haunt
Kumbhanda
448
-
-
-
Wk
Nul
-
-
Wk:Mirage,
Res:Poison/Confusion/Charm
Fatal Sword, Critical Wave, Spirit Drain
Life Stone,

Life Drain Gem

,

Kumbhanda's Essence

42
Vile
Mishaguji
514
-
-
-
Nul
Wk
Wk
Nul
Res:Sleep
Beatdown, Matarunda
Life Stone, Bead,

Mishaguji's Essence

42
Beast
Orthrus
514
-
Nul
Wk
-
-
-
Res
Wk:Poison
Res:Confusion
Fang Breaker, Axel Claw, Fire Dracostrike
Life Stone,

Can of Oden

,

Orthrus's Essence

43
Jaki
Macabre
484
-
-
-
-
-
Wk
Nul
Res:Confusion, Nul:Poison
Venom Chaser, Blight, Black Dracostrike
Life Stone,

Poison Gem

,

Macabre's Essence

44
Fallen
Ose
528
-
Wk
Nul
-
-
-
Nul
Wk:Charm
Critical Slash, Critical Wave, Beast Eye
Life Stone, Revival Bead,

Ose's Essence

45
Night
Kaiwan
435
-
-
-
-
-
Wk
Nul
Res:Seal
Mamudoon, Makajamaon
Life Stone,

Dark Gem

,

Kaiwan's Essence

46
Genma
Hanuman
583
-
-
-
Wk
Rpl
-
-
Wk:Mirage
Purple Smoke, Wind Dracostrike
Life Stone, Muscle Drink,

Hanuman's Essence

48
Raptor
Anzu
557
-
-
-
Nul
Wk
-
-
Wk:Sleep
Res:Seal
Nul:Mirage
Damascus Claw, Steel Needle
Life Stone,

Elec Gem

,

Anzu's Essence
Gallery
[
]