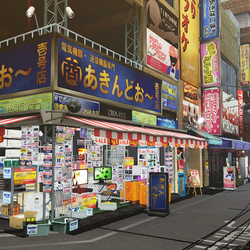 Akihabara (秋葉原) also known as Akiba, is a recurring location in the series.
Akihabara is one of the districts in Tokyo, Japan. Akihabara is a well known place for 'otaku's to obtain anime, manga, video games, electronics, etc.
Akihabara is unlocked in August 31st as a movable area when Futaba Sakura asks the protagonist to come there for the event that starts the Hermit Arcana Confidant. It is also where a maid cafe, one of the Gigolo arcades, an old machine parts store, Tokobushiya goods shop, and one of the Velvet Room entrances are located. The arcade within the area is where the player first meet Shinya Oda.
The Gigolo Arcade features a crane game that costs 300 yen per play. There are five crane game dolls that can be obtained here to be placed at the player's desk in the attic. Chances of winning the dolls are guaranteed when played on the 7th, 17th and 27th days of the month.
Akihabara is one of the locations that is part of the Tokyo Lockdown.
Shin Megami Tensei: Liberation Dx2

[

edit

|

edit source

]
Akihabara is where the Liberators' hideout is located. Many of the other characters also have professions revolving around the area: Megakin does his Megatube broadcats from the hideout; Eileen works part time at a swimsuit cafe, and Shionyan is one of the many "Underground Idols" of Akiba.
Community content is available under
CC-BY-SA
unless otherwise noted.