Raise a Floppa - The Loop
Play Sound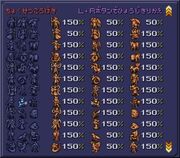 Affinity is a mechanic in the Majin Tensei series.
Appearances
Profile
Affinity determines how much damage a race does to another race, as well as how much damage a type of magic does to another race. Fairy demons, for example, do 50% damage to all races, including Fairy. Another race like Holy, Beast, and Wilder do 50% damage to all land demons and 200% damage to all flying type demons.
Magic like Megido does 100% damage to all races except Element, which only does 50% damage. In battle, the attack window displays the affinity of both demons and magic when used on an enemy. The player can also check the affinity at any time during battle by clicking on AFFINITY, which shows the affinity of all demons and magic.
List of Affinities by Race
Majin Tensei II: Spiral Nemesis
| Race | Ground | Air | Fire | Ice | Elec | Force | Giga | Almighty | Light | Dark |
| --- | --- | --- | --- | --- | --- | --- | --- | --- | --- | --- |
| Deity | 100 | 50 | 50 | 200 | 50 | 50 | 50 | 100 | 50 | 0 |
| Megami | 100 | 50 | 50 | 200 | 200 | 100 | 50 | 100 | 50 | 0 |
| Soshin | 100 | 100 | 50 | 200 | 50 | 100 | 50 | 100 | 50 | 0 |
| Vile | 100 | 200 | 50 | 200 | 50 | 100 | 50 | 100 | 50 | 0 |
| Tenma | 100 | 50 | 200 | 50 | 50 | 100 | 50 | 100 | 50 | 0 |
| Kishin | 100 | 50 | 200 | 50 | 50 | 100 | 50 | 100 | 50 | 0 |
| Amatsu | 100 | 100 | 200 | 50 | 50 | 100 | 50 | 100 | 50 | 0 |
| Kunitsu | 100 | 100 | 200 | 50 | 50 | 100 | 50 | 100 | 50 | 0 |
| Femme | 100 | 200 | 200 | 50 | 50 | 100 | 50 | 100 | 50 | 0 |
| Tyrant | 100 | 100 | 50 | 50 | 50 | 50 | 50 | 50 | 100 | 0 |
| Night | 50 | 50 | 50 | 50 | 50 | 50 | 200 | 100 | 50 | 0 |
| Yoma | 50 | 50 | 50 | 50 | 50 | 50 | 200 | 100 | 50 | 0 |
| Herald | 100 | 100 | 50 | 50 | 100 | 100 | 50 | 100 | 50 | 0 |
| Divine | 100 | 50 | 50 | 50 | 200 | 100 | 50 | 100 | 50 | 20 |
| Fallen | 100 | 50 | 50 | 50 | 200 | 50 | 100 | 100 | 100 | 10 |
| Dragon | 200 | 50 | 100 | 200 | 200 | 100 | 100 | 100 | 50 | 0 |
| Snake | 200 | 50 | 100 | 200 | 100 | 200 | 100 | 100 | 50 | 0 |
| Drake | 200 | 50 | 100 | 200 | 200 | 100 | 100 | 100 | 100 | 0 |
| Genma | 100 | 50 | 50 | 50 | 50 | 50 | 200 | 100 | 50 | 10 |
| Jirae | 150 | 50 | 200 | 100 | 100 | 50 | 200 | 100 | 50 | 20 |
| Fairy | 50 | 50 | 50 | 50 | 50 | 50 | 200 | 100 | 50 | 20 |
| Element | 50 | 50 | 50 | 50 | 50 | 50 | 200 | 50 | 50 | 0 |
| Avian | 50 | 200 | 100 | 50 | 200 | 100 | 50 | 100 | 50 | 20 |
| Flight | 50 | 200 | 50 | 100 | 200 | 100 | 50 | 100 | 50 | 20 |
| Raptor | 50 | 200 | 50 | 50 | 200 | 100 | 50 | 100 | 100 | 20 |
| Avatar | 50 | 200 | 100 | 100 | 100 | 50 | 200 | 100 | 50 | 10 |
| Holy | 50 | 200 | 100 | 100 | 100 | 50 | 200 | 100 | 50 | 10 |
| Beast | 50 | 200 | 100 | 100 | 100 | 50 | 200 | 100 | 50 | 10 |
| Wilder | 50 | 200 | 100 | 100 | 100 | 50 | 200 | 100 | 50 | 10 |
| Brute | 100 | 50 | 200 | 100 | 100 | 100 | 100 | 100 | 100 | 20 |
| Touki | 100 | 50 | 200 | 100 | 100 | 100 | 100 | 100 | 100 | 20 |
| Jaki | 100 | 50 | 200 | 100 | 100 | 100 | 100 | 100 | 100 | 20 |
| Spirit | 100 | 50 | 50 | 50 | 50 | 50 | 50 | 100 | All | 0 |
| Foul | 100 | 50 | 100 | 100 | 100 | 100 | 100 | 100 | 100 | 50 |
| Machine | 100 | 100 | 100 | 100 | 200 | 200 | 200 | 100 | 100 | 0 |
| Human | 100 | 50 | 100 | 100 | 100 | 100 | 100 | 100 | 50 | 20 |